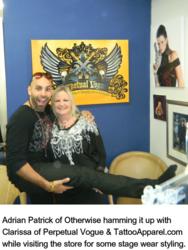 "Styling the band Otherwise was a real pleasure" -Clarissa Parashar of TattooApparel.com
La Habra, California (PRWEB) May 24, 2013
Rock Bands and Small Retailers both have to be driven, willing to work hard and take advantage of opportunities in order to be successful. In the eyes of Clarissa Parashar, the owner of the Perpetual Vogue Store and TattooApparel.com, this makes the two the perfect win win combination when it comes to working together.
Clarissa is a long time fan of Hard Rock and Classic Rock music and as such wanted to come up with an idea that would promote her business and promote musicians and bands. Rather than using stock photos like many other fashion retailers do, Perpetual Vogue and TattooApparel.com likes to shoot the fashions they carry on their own models. In the past they have sourced models from modeling web sites and through the photographers the company works with. After using guitarist, songwriter Brian Marshak of Rooftop Revolutionaries as a model Clarissa realized that she was on to something. Between that and the response she received from customers who saw photos of the band Otherwise (who Clarissa helped style for their current tour) wearing fashions from the store she realized that she should be using musicians as models whenever possible. Clarissa says that she has also found that musicians are often much more dependable at showing up for photo shoots than regular models as musicians are accustomed to honoring their commitments and showing up for gigs on time.
The TattooApparel.com web site recently posted a page on the site with details for interested musicians and bands to contact the company for a collaboration opportunity. Bands and musicians always need current photos for marketing and posting on social web sites but often do not have the budget to pay for professional photographers. Perpetual Vogue and TattooApparel.com are always on the look out for models with a rocker look for photo shoots. It is the perfect match up. Musicians agree to model for a day for the company and in exchange they receive copies of all of the high resolution digital photographs taken of them which they may use for band promotional purposes. Musicians that model for the company also each receive $100.00 store credit to spend in the store. The photo shoots take place several times a year at the Perpetual Vogue Store in La Habra California and at other Southern California locations. A professional photographer is used at each shoot and a hair and makeup artist is on hand for the day. The company also promotes the bands of participants on the TattooApparel.com Facebook Page and is planning to build a bio/schedule page for bands on the companies web site in the near future.
Participants at recent photo shoots included Brian Marshak of Rooftop Revolutionaries, Melissa Dichiera of Lady Zep and three members of the band Slant. The photo shoots are always a lot of fun which can be attested to by quotes from some recent participants. Brian Marshak says, "I love working with Clarissa and TattooApparel! She and her staff always shoot great rock 'n' roll imagery and have fun doing it!"
Fahim Zaman of Slant says, "TattooApparel.com is your one-stop shop for everything ROCK! It was really a great/fun experience working with Clarissa and the rest of the group."
This is a great opportunity for cross promotion that does not cost musicians anything. It just makes perfect sense for a rock fashion retailer and musicians to cross promote each other. Interested musicians in Southern California (or who travel to Southern California) can contact Perpetual Vogue - Tattoo Apparel at the contact info listed on this press release. There is more information on the TattooApparel.com web site on the Contests and Events Page.
The Perpetual Vogue Store and TattooApparel.com carry Rocker Style Clothing and Accessories. Whether you are a musician, want to dress like a rock star or just like unique fashions they can Rock Your Wardrobe. The Perpetual Vogue boutique is located at 230 E. Whittier Blvd. in the city of La Habra California. They are normally open Tuesday through Saturday and special after hours shopping time can be arranged for bands if needed.