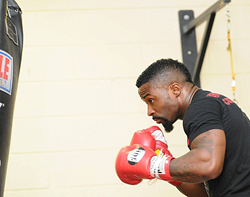 It's God who fights my battles, the Glory belongs to him. I just simply prepare the temple to do his work.
Los Angeles, California (PRWEB) March 16, 2014
As the time tested axiom states, "all good things come to those who wait." Unfortunately, the waiting period is often the most difficult part of being a prize-fighter. But on March 5th, 2014 Blackwell's team received written confirmation from the World Boxing Union, confirming that Rock placed 10th in the world ranking's for their light-heavy weight world championship.
According to the blue chip boxer Rock Blackwell, the lingering interlude of uncertainty is over. The star contender from Baltimore, Maryland, feels that he is more than ready to reach out and grab the brass ring of the division. After years of honing his craft, Rock is truly a star powerhouse as a professional. He display's everything you could ask for from a young fighter; crazy hand speed (perhaps the best in the division), power, skills, Philly shell defense, smarts, poise, a dynamic style, and a dash of showmanship.
As a 5-foot-11 boxer-puncher, Blackwell is muscular and compact. He sits down on his punches, has excellent footwork and displays what boxing analyst astutely describes as a "responsible" level of defense considering his explosive offensive arsenal. Although Blackwell has yet to display one-punch knockout power, Blackwell overwhelms with angles, suffocating combinations and, yes, unrivaled speed.
"He is so advanced for such a young fighter," says matchmaker Eric Butler. "He has offense and defense, highly marketable and he takes his time. He throws beautiful punches and shoulder roll defense. He's the best prospect I've seen in a long time."
Rock also has the pedigree and decorated amateur background to warrant lofty expectations. A reported 156 bouts, losing only 28 of them and capturing the South Atlantic Championship. With a responsible head on his shoulders and a demeanor properly balanced between humble and confident, Blackwell is destined to turn scary potential into pound-for-pound greatness.
Rock Blackwell is scheduled to re-enter the ring on Saturday, April 19th, 2014 in Seattle, Washington.