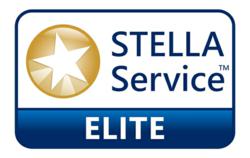 We've always been proud of our staff and the collective commitment to getting customers outside in a safe, comfortable way.
Chattanooga, TN (PRWEB) May 31, 2013
Rock/Creek, a leading specialty outdoor apparel and gear retailer focused on high-quality outdoor clothing and gear, has recently earned an ELITE rating from STELLAService.
STELLAService is an independent company that rates the customer service performance of online businesses. The company leverages a nationwide network of mystery shoppers, using the most robust evaluation methodology ever assembled for online customer service, to stress test hundreds of different elements of the online customer service experience.
Rock/Creek was awarded a rating of STELLAService ELITE, which is achieved by just 4% of thousands of online businesses evaluated by the company. Rock/Creek has been owned and operated by Chattanooga locals Dawson Wheeler and Marvin Webb since they founded the company in 1987, and represents top brands like Patagonia, Marmot, Chaco and more.
Wheeler thanked Rock/Creek's customers, saying, "With loyal customers like ours, it's easy to see immediate gratification from helping people pursue their passions. But an award like this gives us the external recognition that really gets our staff fired up."
Rock/Creek's ecommerce Director, Mark McKnight, expressed his appreciation for the customer service team: "We've always been proud of our staff and the collective commitment to getting customers outside in a safe, comfortable way. Chloe Krueger and our entire team have worked tirelessly to ensure we live up to our vision on a day-to-day basis. Congrats to them on winning this top award. We're also excited to be the first in Chattanooga to attain this ranking."
Online businesses with ELITE or EXCELLENT ratings are eligible to display the STELLAService seal on their sites. This seal is the only trustmark on the Web that objectively and credibly communicates to shoppers that a business is truly dedicated to providing great customer service.
About Rock/Creek
Founded in 1987, Rock/Creek is one of the original specialty outdoor retailers to sell online. The retailer has been lauded with SNEWS and Backpacker Magazine's "Best Online Retailer" award as well as the Grassroots Outdoor Alliance's "Retailer of the Year" award. Known for high-quality trail running events, the retailer's employees organize the Salomon Rock/Creek Trail Series as well as the Triple Crown of Bouldering. The company also has developed an outdoor activity finder at http://rootsrated.com along with other top retailers. Learn more about Rock/Creek at http://www.rockcreek.com/ and on Twitter @RockCreek.
About STELLAService
STELLAService is dedicated to customer service – helping consumers find it and helping businesses achieve it. STELLAService is the first and only independent provider of customer service ratings for online retailers. The company leverages a nationwide network of full-time mystery shoppers to evaluate each site undercover, ensuring findings that are unbiased and true to the shopping experience. Based in New York City, the company operates a syndicated data platform called STELLA Metrics for monitoring and benchmarking customer service performance across hundreds of metrics. In addition, the company publishes reports and other research – such as Happy Customer - to help companies worldwide improve their service operations. Visit http://stellaservice.com/ for more. Follow STELLAService on Twitter @STELLAService
# # #