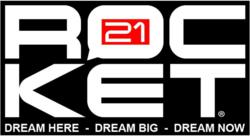 I'm excited for the opportunity Rocket21 has made possible," noted Oregon high school student Moranda Rasmussen. "To visit Nashville and to work with such amazing and supportive people is incredible."
San Francisco, Nashville, Washington, D.C. (PRWEB) May 30, 2012
Youth social network Rocket21, where kids connect with world class professionals, announced that Oregon high school student Moranda Rasmussen is in Nashville this week to record her winning song, "Flying", with country music artist Ansel Brown at the recording studio of Emmy Award winning Nashville composer and producer Cliff Downs.
Rasmussen, a junior at Sheldon High School in Eugene, Oregon, was selected by a panel of judges representing the music industry, NASA, and Rocket21, for her original song, titled "Flying", which encourages kids to dream big and reach for their goals. Ms. Rasmussen wrote the song for Rocket21's "Shoot for the Stars" songwriting competition. The lyrics were unveiled in April at the NASA OPTIMUS PRIME Spinoff Contest Awards ceremony at Kennedy Space Center Visitor Complex in Orlando.
"NASA's legacy has been created by extraordinary dreamers and doers – and Rocket21's mission is to provide a new generation of kids with a place to dream, along with access to world-class experts and resources. Introducing Ms. Rasmussen and her song at the Kennedy Space Center event was amazing" said Jodell Seagrave, President & COO, Rocket21. "And the opportunity for Moranda to collaborate as a working songwriter with the talented and generous Ansel Brown and his team is what Rocket21 is all about – dreams, inspiration, learning, networking, role models and possibilities. Moranda is over the moon – and so are we."
Following the selection of Moranda's original lyrics, Brown and his manager David Poindexter formed a co-writing partnership with Rasmussen, to finalize the song for recording. Behind-the-scenes work is being chronicled by Brown, Poindexter and Rasmussen in a series of videos. Click here to watch.
Ansel Brown commented, "I am so glad to be involved with Rocket21 on such a wonderful project. Moranda is an old soul; this is going to be a fun and inspirational experience! The song will be BEAUTIFUL! "
During the weeks leading up to the recording session, Ms. Rasmussen made the team aware of her desire to share the financial rewards that may be generated by the commercial release of her song.
Moranda noted, "I'm excited for the opportunity Rocket21 has made possible - to visit Nashville and to be working with such amazing and supportive people. I can't wait to check out the Nashville music scene – such an amazing city."
Regarding her plan to include a charity in financial returns for the song, Rasmussen added, "I'd like to include Shriners Hospitals for Children. I've had several operations and leg braces from their hospitals, and they are very kind, caring, and compassionate about doing all they can to help kids with disabilities."
"Flying" will be released on iTunes this summer. Record label is Wixom Records. Publisher is Rocket21 Enterprises LLC.
About Rocket21
Rocket21 provides unprecedented access to world-class experts and organizations while protecting them with a combination of state-of-the-art, real-time filtering and human moderation, extensive safety and security precautions, and a specialized infrastructure designed to keep kids safe.
To learn more about Rocket21, visit rocket21.com. LIKE Rocket21 on Facebook and Follow Rocket21 on Twitter at @rocket21.
About Ansel Brown
An unforgettable voice, an unerring ear for a hit, and a heart as big as all outdoors – Ansel Brown has always possessed the attributes of the All American country star he was born to be. The fact that it took some living for him to figure it all out only makes his story – and his music – all the more compelling. Following a career path that has been anything but traditional, Brown is that rare artist who is simply incapable of singing something he doesn't believe and the kind of person for whom belief is everything.
To learn more about Ansel Brown, visit http://www.anselbrown.com. LIKE Ansel Brown at facebook.com/anselbrownfans. Follow Ansel Brown on Twitter at @anselbrown.