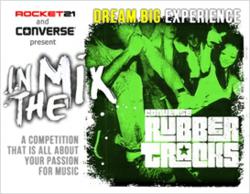 Rocket21 members look to us for authentic experiences and engagement with real PROs," said Jodell Seagrave, Rocket21 President/COO. "Converse has a long history in supporting artistic expression and original thinking. They'll be a dynamic partner.
San Francisco and New York City (PRWEB) July 18, 2012
Today, youth social media network Rocket21 announced the launch of a new program that will provide the opportunity for youth to work alongside experienced engineers at Converse Rubber Tracks recording studio in Brooklyn, NY. The program kicks off with a "Dream Experience" contest, inviting youth to "GET IN THE MIX", and share their passion for music.
"A core community of tweens and teens have collaborated every step of the way in the development of the Rocket21 platform." said Rocket21 President & COO Jodell Seagrave. "Overwhelmingly, kids are expressing that they crave engagement, authentic experiences, and "inside information" from real PROs who are at the top of their game. Converse has a long history in supporting artistic expression and original thinking by people who want to change the world. They'll be a dynamic partner as we launch the only social platform developed specifically to help kids explore how the things they love now may connect to their futures."
From now through August 6th, Rocket21 members are invited to upload photos, videos, lyrics, musical compositions, mixes, performances, and more to represent their unique passion for music. Participants will compete to win one of two behind-the-scenes experiences at Converse Rubber Tracks recording studio in Brooklyn, New York; design-your-own Converse sessions at the Converse Soho store in New York City; and other prizes.
The contest is open to all Rocket21 youth members; whether music inspires them to sing, play an instrument, offer critical music reviews, compose, write lyrics, edit, produce, or even create promotions for original music.
So far in 2012, Rocket21 partnerships have created opportunities for youth members to be guests at The GRAMMY Awards, record original music in Nashville, receive special recognition at NASA Kennedy Space Center, join a press tour with National Geographic Channels in Yellowstone, spend the day with Roush Fenway Racing Team drivers at a NASCAR Race, join world-renowned marine biologists at the Georgia Aquarium, and much more.
About Rocket21
Rocket21 is a social engagement platform built on a single, powerful idea: "Connect youth with world class organizations and professionals at the top of their game". Rocket21 is the only social networking platform designed to safely connect kids and teens with professionals and experts representing industries, professions, passions, and movements that span the globe. Rocket21 provides unprecedented access to world-class experts and organizations while protecting them with a combination of state-of-the-art, real-time filtering and human moderation, extensive safety and security precautions, and a specialized infrastructure designed to keep kids safe. Rocket21 is based in California and New York.
Like Rocket21 on Facebook and follow @Rocket21 on Twitter.
For more information contact Media Relations at media(at)rocket21(dot)com or Jodell Seagrave at jodell(at)rocket21(dot)com