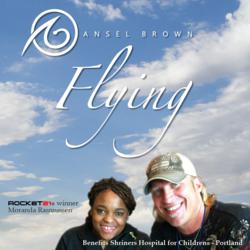 We are so excited for Moranda. She is doing what we hope all our patients do - Dreaming Big and Going for It! It was so kind of her to think of giving back to the hospital," noted Craig Patchin, Hospital Administrator, Shriners Hospital for Children.
San Francisco, Portland, Washington, D.C., Charlotte, N.C. (PRWEB) October 02, 2012
Youth social network Rocket21, [where kids connect with world class professionals], has announced that a recent songwriting competition will result in a fundraising campaign to benefit Shriners Hospitals for Children - Portland, while generating education funds for youth songwriter, Moranda Rasmussen.
Last spring, Rocket21 announced that Rasmussen had been selected as the Grand Prize winner in the company's "Dream Here. Dream Big. Shoot for the Stars." songwriting competition. Students from across the United States submitted original songs for the national contest.
Rasmussen, then a junior at Sheldon High School in Eugene, OR., was selected by a panel of judges representing the music industry, NASA, and Rocket21, for her original song titled "Flying", which encourages kids to dream big and reach for their goals, regardless of challenges they may face. NASA collaborated on the competition, which included an appearance at the 2012 NASA Optimus Prime Awards event.
In April, Ms. Rasmussen attended the NASA OPTIMUS PRIME Spinoff Contest Awards ceremony at Kennedy Space Center Visitor Complex in Orlando, Florida. Rasmussen – and her winning song - were introduced at the event by rising Country Music Artist Ansel Brown. Brown was selected to perform his original song, "When You Fly," to honor the Space Shuttle Program on multiple occasions in 2011.
In June, Rasmussen traveled to Nashville for a recording session of "Flying", with Rocket21 executives, Ansel Brown, and music producer Cliff Downs. Brown and his manager David Poindexter, collaborated as songwriters and composers with Ms. Rasmussen on the final version of the song. While in Nashville, the group were in-studio guests on WSM Radio, a legendary country music station on the grounds of the Grand Ole Opry.
Beginning September 21st, Rasmussen's song "FLYING" was released on iTunes and available for sale via Amazon, with 10 cents per download to benefit Shriners Hospital for Children in Portland. (Rasmussen has been a patient at the hospital, and initiated the selection of the institution as a beneficiary to the sale of her song).
"We are so excited for Moranda, she is doing what we hope all of our patients do - Dreaming Big and Going For It. It was so kind of her to think of giving back to the hospital," commented Craig Patchin, hospital administrator for Shriners Hospital for Children, Portland.
To celebrate the commercial release of the song, Rocket21 hosted a "premiere party" at the hospital on September 21st. Ms. Rasmussen joined Ansel Brown and David Poindexter in performing an acoustic rendition of their song, "Flying". Current and former patients and families were on hand, along with hospital staff and administrators. Brown performed several of his original songs, and Rasmussen was inspiring and authentic in her heartfelt encouragement for the hospital's young patients to believe in their futures and reach for their dreams, in spite of the very real challenges she understands so well. The group was also treated to the broadcast version of the fully produced song.
Ansel Brown noted, "Working with Moranda, Rocket21, and NASA has been such a fun and inspirational experience. The song is beautiful and genuine." Brown added, "I couldn't be more excited about Moranda's selection of Shriners Hospital for Children as a beneficiary to our collaboration. My grandfather was a longtime Shriner and I know first-hand the impact of their work."
Rasmussen was presented with a framed certificate of the copyright registration for "Flying," as registered at the U.S. Copyright Office. She also received a copy of the cover art for the single, signed by Ansel Brown, and representatives from Rocket21 and NASA.
"NASA's legacy has been created by extraordinary dreamers and doers. Introducing Moranda and her song at the Kennedy Space Center event was amazing" said Jodell Seagrave, President & COO, Rocket21. "And the opportunity for Moranda to collaborate as a working songwriter with the talented and generous Ansel Brown and his team is what Rocket21 is all about – dreams, inspiration, learning, networking, role models and possibilities. But ultimately, Moranda's recommendation to involve Shriners Hospital for Children in Portland as a beneficiary for her song, has been truly inspiring. Knowing that the hospital has a special place in her heart – and being a part of her spirit of generosity – has touched us all."
Darryl Mitchell, Senior Technology Manager, Innovative Partnerships Program Office, NASA's Goddard Space Flight Center, represented NASA at the hospital event, and talked with patients and families about NASA's role in the collaboration, and also shared stories about NASA spin-off technologies and the breadth of future opportunities for students in the NASA organization.
The song "Flying", by Moranda Rasmussen, Ansel Brown, and David Poindexter, (published by Rocket21), is available for download now on iTunes, Amazon, and other music sites. Rocket21 will not retain any proceeds from the sale of the song.
###
About Rocket21
Rocket21 provides unprecedented access to world-class experts and organizations while protecting them with a combination of state-of-the-art, real-time filtering and human moderation, extensive safety and security precautions, and a specialized infrastructure designed to keep kids safe.
To learn more about Rocket21, visit rocket21.com. LIKE Rocket21 at facebook.com/rocket21. FOLLOW Rocket21 on Twitter at @rocket21.
About Shriners Hospital for Children – Portland
Shriners Hospitals for Children® is changing lives every day through innovative pediatric specialty care, world-class research and outstanding medical education. The 22 hospitals in the United States, Canada and Mexico provide advanced care for children with orthopaedic conditions, burns, spinal cord injuries, and cleft lip and palate. To learn more visit http://www.shrinershospitalsforchildren.org/portland. LIKE Shriners Hospital PDX on facebook.
About Ansel Brown
An unforgettable voice, an unerring ear for a hit, and a heart as big as all outdoors – Ansel Brown has always possessed the attributes of the All American country star he was born to be. The fact that it took some living for him to figure it all out only makes his story – and his music – all the more compelling. Following a career path that has been anything but traditional, Brown is that rare artist who is simply incapable of singing something he doesn't believe and the kind of person for whom belief is everything.
To learn more about Ansel Brown, visit http://www.anselbrown.com. LIKE Ansel Brown at facebook.com/anselbrownfans. Follow Ansel Brown on Twitter at @anselbrown.