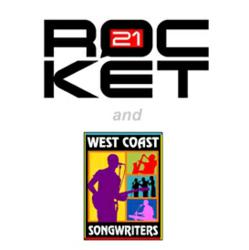 West Coast Songwriters is a core resource for countless songwriters and artists," said Executive Director Ian Crombie. "We're delighted to help Rocket21 members refine their personal expression through songwriting, while we nurture their love for music.
San Francisco, CA. (PRWEB) November 18, 2011
Rocket21™ (the new social network where kids explore amazing possibilities for their lives and futures) and West Coast Songwriters (the most active non-profit music organization in the U.S., offering education, opportunity and networking to songwriters) announced the start of a new songwriting contest on Rocket21.com to encourage self-expression and creativity among youth by encouraging them to write lyrics about anti-bullying, their dreams for the future, their lives growing up in the 21st century, and more.
"Dream in Tune" is the latest wave in Rocket21's "Dream Here -- Dream Big" Contest Series. One passionate student songwriter – or songwriting team - will win an unforgettable evening as the guest of a GRAMMY member at the 54th Annual Grammy Awards in February 2012.
"Rocket21 is about supporting all kids' dreams, every single day. And we are also connecting with inventive partners who can help us design once-in-a-lifetime opportunities to inspire our members' imaginations and extend their passions. Our "Dream in Tune" contest is one of those opportunities. The winner will remember this experience fifty years from now," said Rocket21 President and COO Jodell Seagrave. "Our partnership with West Coast Songwriters brings direct access to world-class songwriters, artists, and music industry experts to all our members, and this promotion is an exciting enhancement."
Hundreds of experts, called R21 PROs, from hundreds of fields have been invited to interact with kids. They include explorers, artists, ecologists, business executives, entertainers, scientists, engineers, nurses, doctors, educators, and more – people who do some of the amazing things kids dream of doing.
"West Coast Songwriters has helped to launch and nurture the careers of countless songwriters and artists, including Sara Bareilles, by facilitating connections and collaboration," said Ian Crombie, Executive Director, West Coast Songwriters. "WCS is a natural partner for Rocket21 – our industry partners and dedicated members are excited to help kids share and refine their personal expression through songwriting as well as nurture their love for music."
From now through December 19th, Rocket21 student members are invited to submit song lyrics around their choice of themes – and can enter the contest as individual songwriters or by forming a songwriting team with a friend. Students will receive feedback about their writing – and encouragement and inspiration from successful young artists and industry PROs. One student songwriter or a two-person songwriting team plus parents will be the guest of a GRAMMY member at the 54th Annual Grammy Awards in February 2012. Deadlines vary by category with deadline for final entries on December 19th. Click here for complete contest details.
West Coast Songwriters is looking forward to working with Rocket21. WCS has a long history of involvement with youth and student projects", said Mark LeMon, President, West Coast Songwriters. We're committed to helping upcoming generations connect with their passions – and especially when kids' dreams involve music."
Board representatives and members from West Coast Songwriters, along with invited music industry executives, will serve as judges with the Rocket21 team. Grand Prize Winner will be announced on January 16th, 2012.
About Rocket21
Rocket21 provides unprecedented access to world-class experts and organizations while protecting them with a combination of state-of-the-art, real-time filtering and human moderation, extensive safety and security precautions, and a specialized infrastructure designed to keep kids safe.
Like Rocket21 on Facebook and Follow @Rocket21 on Twitter. For more information about Rocket21, please contact Media Relations at media@rocket21.com.
About West Coast Songwriters
West Coast Songwriters is a 501(c)3 nonprofit educational organization.
Founded in 1979, WCS has grown into one of the most active music associations in the USA, offering more than 25 events per month. Whether the goal is personal expression or to make a living in the music industry, knowing how to write or recognize a well crafted song is the key to success. At WCS, members establish important relationships, both professionally and personally, that enhance and accelerate their development. Music ceases to be a solitary pursuit and becomes a shared endeavor through the focus, feedback, collaboration, contacts/networking and support that WCS provides.
For more information, please contact Ian Crombie at ian(at)westcoastsongwriters(dot)org.
###