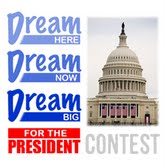 I feel amazing and honored that I won this contest." added winner Josh Arizmendi. "That I get to see the President live and in person is awesome
San Francisco and New York (PRWEB) January 20, 2013
Rocket21™ (the new social network where kids explore amazing possibilities for their lives and futures) today announced the names of two National Grand Prize Winners in the company's Dream Big for The President Contest, a national essay and digital media competition to increase awareness of views held by Generation Z youth on issues related to government, society, and politics.
The Dream Big for The President competition – one segment in Rocket21's ongoing Dream Here, Dream Big, Dream Now Series – invited submissions from middle school and high school students across the United States. In addition to two Grand Prize Winners, eighteen students were selected as National Finalists.
Grand Prize Winners include:
**Joshua Arizmendi, age 12, Bridgeport, Connecticut. Arizmendi's winning entry features his original drawings presented in a video slideshow, accompanied by his original voice-over, and focused on themes relating to job creation and reducing unemployment rates in America.
**Michelle Li, age 16, Cary, North Carolina. Li's winning entry is a video showcasing her family's story of immigrating to America, her plea for bipartisanship, and her optimism for the future.
Both Grand Prize winning entries may be viewed by clicking this link.
"I entered Rocket21's Dream Big for the President Contest because I've always been interested in politics, history, current events etc., and this was a great opportunity to express my opinions and views on the hopes and dreams of my generation's future and America's future," said Grand Prize Winner Michelle Li. "I'm so excited to be able to see the Presidential Inauguration in person as it is such an awesome experience and once in a lifetime chance!"
Grand Prize Winner Josh Arizmendi remarked, "I feel amazing and honored that I won this contest. That I get to see the President live and in person is awesome!"
To compete, Rocket21 asked its youth members to respond to a scenario in which the President himself has asked youth to represent the hopes and dreams of their generation during his Inaugural address. The contest offered prompts for youth to advise the President, share a wish for his Presidency, or consider their own ideas for America. Rocket21 members could choose from a range of options for methods of entry ― including mini-essays, photos, videos, songs, drawings, and posters.
Rocket21 received a wide range of substantive and creative entries from across the country, incorporating a variety of elements including written mini essays, photographs, original art, music, poems, and more. Judges for the competition included the Rocket21 founding team and staff from The Twenty First Century Group, a bipartisan consulting group focused on federal government affairs based in Washington, D.C.
Hundreds of experts from hundreds of fields are participating as Rocket21 PROs. They include explorers, artists, ecologists, business executives, entertainers, scientists, engineers, nurses, doctors, educators, and more – people who do some of the amazing things kids dream of doing.
About Rocket21
Rocket21 provides youth with unprecedented access to world-class experts and organizations while protecting them with a combination of state-of-the-art, real-time filtering and human moderation, extensive safety and security precautions, and a specialized infrastructure designed to keep kids safe.
Like Rocket21 on Facebook and Follow @Rocket21 on Twitter.
For more information about Rocket21, please contact Media Relations at media@rocket21.com or jodell@rocket21.com