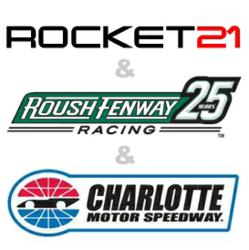 I'm extremely thankful for Rocket21. With their amazing opportunities I am now able to get an inside peek into NASCAR racing – something that brings me the most joy," said Grand Prize Winner, Connecticut high school senior Kaitlyn Camp.
San Francisco, New York, Charlotte (PRWEB) May 25, 2012
The Rocket21 competition invited kids and teens under 18 to consider what fuels THEIR passions, what teamwork means to them, and what kind of competitor they are – or would like to become. Ms. Camp and her family will attend the HISTORY 300 NASCAR Nationwide Series race at the historic Charlotte Motor Speedway in North Carolina on May 26th. While there, Camp will spend time with Roush Fenway Racing drivers, crew chiefs, and more – to learn about the sport from an insider's perspective.
"I'm extremely thankful for Rocket21. With their amazing opportunities I am now able to get an inside peek into NASCAR racing – something that brings me the most joy," said Kaitlyn Camp.
"The video and essay entries kids submitted to our contest conveyed a rich understanding of what it means to be an effective team member, "said Mark Grayson, Rocket21 CEO. "We were inspired by their sincere, creative, interesting, and funny thoughts and reflections."
NASCAR Nationwide Series champion Ricky Stenhouse Jr. and Trevor Bayne, the youngest winner in the history of the Daytona 500, are key players in the Rocket21 program and will be on hand to meet Ms. Camp.
"It's fantastic that this contest helped to show kids that racing – even at the highest level of the sport – really is a TEAM sport. We're delighted that our winner has a tangible goal – mechanical engineering – as an idea of how she may one day contribute professionally to the field of racing," noted Steve Newmark, president of Roush Fenway Racing. "We're excited to meet Kaitlyn – and love that we have a platform to share some of Roush Fenway's tradition of winning with the Rocket21 community."
"Charlotte Motor Speedway is always searching for ways to engage young race fans and it didn't take much convincing for us to jump at this creative partnership opportunity with Rocket21," said Adrian Parker, Director of Communications at Charlotte Motor Speedway. "The HISTORY 300 is the perfect event for these kids to get acclimated to NASCAR and discover the importance of teamwork in the NASCAR garage. We are thrilled for Kaitlyn and know she will be captivated by the behind-the-scenes, V.I.P. treatment she'll enjoy this weekend. And, worth noting: ALL kids 13 and under can get in free to the HISTORY 300 with a paying adult."
For more information about the Rocket21, "Dream Big at the Races" Competition, click here.
About Roush Fenway Racing
Roush Fenway Racing is the winningest team in NASCAR history, fielding multiple teams in the Sprint Cup and Nationwide Series with championship drivers Carl Edwards, Matt Kenseth, Greg Biffle, Ricky Stenhouse Jr., and Trevor Bayne. Celebrating 25 winning years in 2012, Roush Fenway is the leader in NASCAR marketing solutions, pioneering its exclusive Roush Fenway OnTrack sponsorship measurement services, motorsport's first team-focused TV show and its award-winning social marketing channel RickyvsTrevor.com.
Visit http://www.RoushFenway.com, become a fan on Facebook at http://www.facebook.com/roushfenway and follow on Twitter at @roushfenway. For sponsorship inquiries call John Bauersfeld at 704.720.4621.
About Charlotte Motor Speedway
Tickets for the HISTORY 300 and Global RallyCross double header at Charlotte Motor Speedway on Saturday, May 26, start at just $25 and kids 13 and under get in free with a paying adult. Tickets can be purchased by calling the speedway ticket office at 1-800-455-FANS (3267) or online at http://www.charlottemotorspeedway.com.
For daily updates on May race activities, connect with Charlotte Motor Speedway by following on Twitter at http://www.twitter.com/CLTMotorSpdwy or become a Facebook fan at http://www.facebook.com/charlottemotorspeedway.
For more information contact the Charlotte Motor Speedway communications department at 704-455-3209.
Rocket21
Rocket21 is the only social networking platform designed to safely connect kids and teens with professionals and experts representing industries, professions, passions, and movements that span the globe. Rocket21 provides unprecedented access to world-class experts and organizations while protecting them with a combination of state-of-the-art, real-time filtering and human moderation, extensive safety and security precautions, and a specialized infrastructure designed to keep kids safe.
Like Rocket21 on Facebook and follow @Rocket21 on Twitter.
For more information contact Media Relations at media(at)rocket21(dot)com.