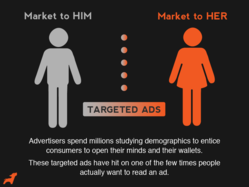 Even the big advertisers are failing at executing the QR Code, their message isn't clear and the technology isn't optimized for mobile. We're leading the way not only in indoor advertising but also the mobile call to action that translates into more sales
Fort Collins, CO (PRWEB) January 27, 2012
Rocket Dog Media, is an advertising company helping businesses throughout the country build their brand awareness. What makes Rocket Dog Media unique is how it has effectively taken the benefits of indoor billboard advertising and united them with mobile technology to design an inventive form of advertising.
Rocket Dog Media focuses on placing ads in highly visible locations, such as restrooms, where it is easier to pinpoint specific demographics, and where fewer distractions make it more likely that people will notice and retain displayed messages. Included on all Rocket Dog Media's restroom billboards is a QR code, and when scanned by a smartphone, the QR code directs consumers to a mobile landing page equipped with a promotion, directions to the location, a click to call feature, and a few other useful tools.
Although other advertising companies are using QR codes, Rocket Dog Media's owners feel they better execute the technology by including a distinct call to action within the mobile experience. Additionally, their pages are built so they are compatible with all browsers, so no matter if viewed on a computer, phone, or tablet, users can properly see the intended message, and are rewarded for their effort. Rob Benson, Advertising Director at Rocket Dog Media said: "Even the big advertisers are failing at executing the QR Code, their message isn't clear and the technology isn't optimized for mobile. We're leading the way not only in indoor advertising but also the mobile call to action that translates into more sales for our advertisers."
One of Rocket Dog Media's primary settings for placing ads is in restrooms. While restroom advertising may seem unconventional, company members support their tactics through research and statistics. Adding credence to their methods is a study conducted by Barbour and Monroe Marketing, which found 84% of washroom visitors recalled one or more of posted washrooms ads. Another study by Rice University found restroom billboards receive consumers' undivided attention for 1.5 to 2 full minutes -- significantly more than many traditional methods.
Ryan Beckman, Co-Owner of the company is quoted as saying: "By combining a digital element into an already trusted advertising medium we have created an exceptional marketing strategy fit for the 21st century." Those within the company have made it clear, they are excited to be helping small businesses better reach their customers. To learn more about this growing and vibrant company pioneering the combination of successful indoor advertising and the growing interactive mobile community visit Rocket Dog Media.
###