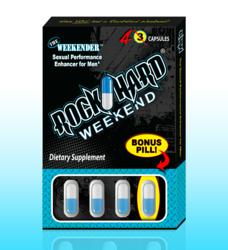 Every decision at RH Labs is made with the customer in mind
Atlanta, GA (PRWEB) October 25, 2012
RockHard Weekend, the ultimate all-natural male enhancer, has announced the official launch of a new packaging option.
The new bonus pack will replace their current three-count carton and include a fourth bonus pill. Like the original three-count carton, the new bonus pack will have a suggested retailer price of $17.99.
"Every decision at RH Labs is made with the customer in mind," says RH Laboratories President, Joshua Maurice. "We were looking for a way to increase value for the user, and we felt that offering more of our product without increasing the price point would be the best way to offer that to our loyal customers."
The new packaging will roll out to stores across the country next week, including CVS, Rite Aid, Duane Reade, Kroger, and other national retailers.
About RH Laboratories
RH Laboratories manufactures RockHard Weekend, an all-natural male sexual performance enhancer as well as Pandora, an all-natural sexual enhancer for women. RH Laboratories is constantly using innovative techniques to promote their products not only as supplements but also as a lifestyle. In addition to the products RH Labs manufactures, they distribute Forgiven, the world's first alcohol metabolizer, Dr. Berman's Intimate Accessories, and Victory Electronic Cigarettes.