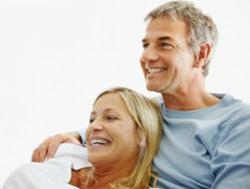 No food is known to actually raise the libido, but these foods have been shown to help.
San Diego, CA (PRWEB) October 03, 2012
RockinMarriage.com is quickly becoming one of the world's most read relationship counseling blogs. Offering daily tips and advice for married couples across the globe, information can be read directly from their blog, or via a daily digest email.
In their latest blog post, Ed and Cathy Lorient how a lunch date can add some romance and adventure to a stressful week. The new blog post is titled, "The Top 5 Foods to Put You in the Mood".
The blog post can be accessed here:
http://rockinmarriage.com/the-top-5-foods-to-put-you-in-the-mood/
Within this latest post, Ed and Cathy discuss a post on Dr. Oz's RealAge.com, which lists foods that are supposed to put some love and passion into romance.
While experts say that no foods are proven to improve libido, the list of foods within the article are thought to help.
Ed and Cathy share these with their readers, starting with bright foods. Fruits and vegetables with bright hues are proven to improve nutrition and hence improve libido.
Light foods are next on the list. The reason for this is simple – nobody wants to make love after a heavy meal and with a full stomach!
Chocolate is also listed, something with greatly pleases Cathy.
"I, for one, think chocolate is a very sensuous experience, but apparently there's some science that says chocolate may have properties that can get you in the mood," she says.
Not surprisingly, alcohol is listed as number four. Due to its great ability to limit anxiety and inhibitions, most people can relate to the aphrodisiac effects of alcohol. However, according to the article, don't drink too much. This will only serve to depress the nervous system and bring on clumsiness.
Finally, oysters are mentioned – an old favourite among some.
"Just one usually supplies the daily requirement for zinc, a trace mineral that's essential for conception. Even a brief shortage of zinc impairs ovulation in women and reduces semen and testosterone in men," writes Ed and Cathy, directly quoting from the article.
Where can married couples learn more? Learn how to save marriage by subscribing to Rockin Marriage for free. Visit their daily tips website at RockinMarriage.com.
RockinMarriage (™) thinks this is important information for married couples and asks them to Like our Page on Facebook to learn exclusive daily marriage tips, strategies and news, all with the aim of preserving life's most precious bond. "We'd appreciate your help in spreading the word amongst married couples," says Ed and Cathy.
Like this? Check out RockinMarriage's last article: Top Relationship Counseling Blog, RockinMarriage.com, Announces the Value of Laughter in a Passionate Marriage