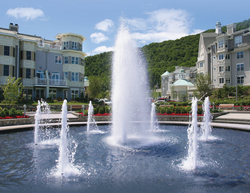 Parkside combines luxury apartment rentals and Hudson River waterfront living with resort-like lifestyle at a very reasonable price. This is a unique combination for renters in the metro New York area.
Valhalla, NY (PRWEB) April 14, 2011
GDC Homes, the developer of The Harbors at Haverstraw community in Rockland County, New York, has announced that construction is nearing completion at Parkside, the newest and only luxury rental apartment building in this award-winning Hudson River waterfront community. It is expected that tenants will start moving into their rental apartments this June. In addition to luxury apartment rentals at Parkside, the new residential community features townhouses and condominiums.
Parkside is a 109-unit apartment building and the first apartment rental building in The Harbors, located in Haverstraw, NY. GDC decided to develop Parkside as a rental apartment building as a result of research and market studies that demonstrated an increasing demand for high-quality, luxury rental apartments in the areas of Rockland County, NY and Bergen County, NJ. In fact, there has been no new luxury rental apartment construction in the suburban New York area surrounding Parkside in recent years and Parkside is the only new apartment building currently under construction on the Rockland County Hudson River waterfront. Parkside will address the rising demand for high-end apartment rentals and will allow individuals to consider an apartment for rent, complete with a wide variety of amenities and recreational features, as an alternative to purchasing a condo or home.
Parkside has received a great amount of interest and is already over 30% leased with 2 months left until the building is completed. "The pace of leasing at Parkside is way beyond our expectations," stated Martin Ginsburg, President of GDC. "Usually at this stage in the development leasing activity is just getting started, but for Parkside, the level of interest has been tremendous."
People who have already rented apartments at Parkside and those considering leasing units seem to be attracted to the recreational activities and waterfront location of Parkside, as well as its close proximity to New York City, shopping in Bergen County, NJ and the suburban lifestyle of Rockland County. According to Ginsburg, "The success of this beautiful apartment rental building is due to the fact that The Harbors lifestyle is really special. Parkside combines luxury apartment rentals and Hudson River waterfront living with resort-like lifestyle at a very reasonable price. This is a unique combination for renters in the metro New York area."
Parkside is the latest addition to The Harbors at Haverstraw community of townhomes, condominiums and apartments fronting the Hudson River in Rockland County, New York. It offers renters who have traditionally looked to rent apartments in nearby Piermont and Nyack, NY, or in New Jersey towns such as Edgewater and Fort Lee, with a great alternative.
Parkside apartment renters can take advantage of a wide variety of luxury features, high-end amenities and recreational activities such as a 15,000 square foot clubhouse that includes an 8,000 square foot fitness center, indoor basketball court, cinema, massage spa and a grand lounge. Adjacent to the clubhouse are 2 resort-style swimming pools. On site are a kayak launch, a marina, a sculpture walk on the Hudson, and a bistro/café. Many of the Hudson River waterfront rental apartments will have direct water views of the river, an inlet estuary, or High Tor Mountain, the highest mountain in Rockland County, New York.
GDC's objective was to create an exciting community that combines luxury conveniences, fun activities, as well as peaceful waterfront relaxation. The aim is to make this lifestyle available not only to owners of townhomes and condominiums, but also in the form of apartments for rent. "We are offering renters a unique experience. No apartment rental complex in Rockland County or along the Hudson River can compare in terms of the outstanding amenities and attention to detail," commented Ginsburg. "There simply is no other rental building in Rockland, Bergen or Westchester County that offers the lifestyle and amenities of Parkside."
A 5-story elevator building with dramatic architecture inside and out, Parkside offers spacious one and two bedroom apartments with luxury finishings plus exceptional detailing. It will have a grand lobby and club room where residents can socialize. In addition, indoor parking is available, which is a unique feature that most waterfront rental apartment buildings in Rockland, or Bergen or Westchester do not offer.
An on-site ferry service to the Metro-North Ossining railroad makes commuting to Manhattan very simple. Parkside apartment renters can walk to the pier, and take a quick ferry to the train, which goes to Grand Central Station in New York City. The whole trip takes about 1 hour. Ginsburg noted, "This is one of the great features of Parkside that allows commuters who are considering rental building in Fort Lee or Edgewater, NJ to consider an alternative with superior lifestyle and at a lower cost."
The Parkside apartment rental building is part of The Harbors at Haverstraw community in Haverstraw, New York and was developed by GDC Homes. Parkside luxury apartment rentals are located on the Hudson River waterfront and feature a wide variety of activities and amenities such as a fitness center, swimming pools, spa and clubhouse. More information is available at http://www.parksidehudsonapartments.com.
# # #