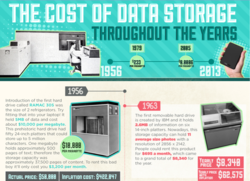 Pembroke, MA (PRWEB) June 18, 2013
Rockland IT Solutions, a leader in the secondhand storage and refurbishment market, has created an informative infographic that examines how the limits to the storage capacity of a hard drive have increased while the price has decreased over the last few decades. The infographic is filled with various prices and volumes of data storage solutions.
"Rockland IT Solutions is committed to bringing our customers the most cost-efficient way to store their important data. This infographic was intended not only to show our audience how far technology has come, but to give them an idea of where it might be headed," said a representative from the company.
This infographic describes how outrageous the cost of data storage was in the history of hard drives, compared with the current digital age. Early hard drives were room-sized and held less information than a calculator. The infographic tracks the progression of this technology over time and notes how not only have the prices decreased, but the sizes of the drives themselves have also gotten smaller.
Rockland IT Solutions recognizes the need for cost-efficient data storage. The company hopes that this fun infographic will represent how technology has progressed since 1956 and the introduction of the RAMAC hard drive.
About Rockland IT:
The vision of Rockland IT Solutions came about when the founders recognized the strong demand for refurbished second hand storage solutions was not being met. Surrounded by EMC, QLogic, and Emulex certified technicians and a highly trained sales staff, Rockland IT Solutions has enjoyed tremendous growth and a strong share of the refurbished storage market in a relatively short period of time. Rockland IT Solutions can be reached on the web at http://www.rocklandits.com/ or by phone at 781-826-9080.