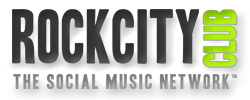 "Rock City Club is positioned to set the new industry gold standard for discovering, promoting and distributing new music talent and content around the world" Jack Wishna
Las Vegas, NV (PRWEB) April 02, 2012
Think of American Idol meets The Social Network, LinkedIn, Facebook and Foursquare. What would that look like? Well welcome to Rockcityclub.com, the world's first Social Music Network™.
Entrepreneur Jack Wishna spent the past three years developing Rockrena Inc., the parent company of RockCityClub.com, which launched a website in Beta in October 2011. Since then, and based upon feedback and real user data compiled, Wishna, along with Brian Silver, COO and Ofek Hayon, CBDO have solidified the platform of services and experiences that make Rockcityclub.com the best career development community for new artists and bands.
Rock City Club offers aspiring artists and bands, and fans of great music many 'firsts'. Rock City Club is the first company to offer a Social Music Network™; the first to design a radio station that undiscovered artists and bands can broadcast their music now to millions of new fans; the first to design a 'Producers Circle' consisting of the biggest music producers in the world; the first to offer live performances of talent developed online; the first to create a 'Fan Distribution System' to sell and market independent music; and the first company to use social gaming to advance the careers of musical talent.
Rock City Club is the music industry's first Social Music Network™, letting music fans from around the world engage with undiscovered artists while having a hand in creating their success. "We truly believe this is the next evolution of the music industry, and it is being done through an alternative format to 'American Idol' and 'The Voice' for discovering talent," said Jack Wishna, CEO of Rockrena. "This is a tremendous opportunity for a musical act to be discovered, have their music heard, and to be promoted. Programs such as "American Idol" target "the needles in the haystack," while RockCityClub.com will work with, and cultivate the careers of the artists within the 'haystack' added Wishna.
And RockCityClub.com certainly has the muscle to pull this off. Jack Wishna, who previously worked on building the careers of Britney Spears, Madonna, Wayne Newton, Michael Jackson and Donald J. Trump to name a few, has assembled a team of entrepreneurs, internet superstars, music industry executives and a dream team of music producers to back up his company mission.

Wishna initially formed the idea of Rock City Club with the late Don Kirshner, the legendary music impresario and producer who helped launch the careers of Carole King, Neil Diamond and hundreds more. Adding to the Kirshner imprimatur, Wishna recruited Nyhl Henson the creator of MTV and Nickelodeon to join the Board, along with Mike Dann the programming visionary behind CBS Television, Chris Murray the software entrepreneur, Sig Rogich Special Advisor to President Ronald Reagan and Assistant to President George H.W Bush in the West Wing of the White House; and Stacy Haitsuka a visionary founder of internet provider NetZero (United Online) who also serves as the Chief Technology Officer at Rock City Club heading up the Information Technology Department along with John Kohl, Rock City Club's Chief Information Officer.
Wishna recruited Ron Dante to be the Executive Director of Talent Acquisition. Ron a highly successful music producer with a keen eye for developing talent has a room full of Platinum Records, as well as Grammy, Clio and Tony Awards and has established the one of a kind "Producers Circle" at Rock City Club. This dream team of music producers, songwriters and directors have earned over 120 Grammy Awards, have over 210 Top 40 Hits, over 60 #1 songs, and have worked with some of the biggest names in the music business, a 'Who's Who' of legendary artists and performers.
The Producer's Circle is the elite group at Rockcityclub.com that will review artist and band members that have met certain criteria and who are now eligible to be part of the Producer's Circle. Artists and Bands that make inclusion into the "Circle" now gain personal one on one creative guidance and direction from the biggest names in the industry such as Phil Ramone (Madonna, Elton John, Bob Dylan); Desmond Child (Bon Jovi, Christina Aquilera, Kelly Clarkson); Jay Landers (Usher, Sting, Celine Dion); Nancy Gregory (Plain White T's, Britney Spears, Justin Timberlake); Jack Douglas (Aerosmith, John Lennon); Michael Lloyd (Moody Blues, Kimberley Locke, Belinda Carlisle); Lamont Dozier (Phil Collins, Kanye West, Black Eyed Peas); James Earley (M.C. Hammer, Rage Against The Machine, E-40); Kevin Churko (Ozzy Osbourne, Shania Twain, Ringo Starr, Five Finger Death Punch) and Kerry Gordy (Prince, Dr. Dre, Michael Jackson) son of Motown founder Berry Gordy and the brother of Redfoo (Stefan Gordy) of the music group LMFAO.
Last month RockCityClub.com announced a partnership with internet music radio powerhouse Slacker Inc. to design the world's first radio station that will be dedicated exclusively to undiscovered artists and bands. The 'Rock City Club Channel' on Slacker Radio will carry the Rock City Club brand, will be programmed by Rock City Club's elite producers and will offer artists and bands on the Rockcityclub.com website another platform to enhance their careers and increase their fan bases and exposure.
RockCityClub.com will also bring together music fans from around the world to engage in some healthy competition through mobile/social networking to promote their favorite undiscovered talent. "There is a gaming element to this that keeps fans coming back," says Stacy Haitsuka, a co-founder in NetZero and Chief Technology Officer at Rock City Club. "The focus is to keep fans involved with the website."
As artists gain a following, RockCityClub.com will also offer the most popular performers a chance to showcase their talents during live concerts broadcast from the Palms Resort and Casino in Las Vegas, as well as other venues around the world. The Palms Resort & Casino, the hip music destination, is a strategic partner of Rock City Club offering 'breakout artists' on RockCityClub.com an opportunity to work on the same stages as Jay Z, Gwen Stefani, Lady Gaga, Maroon 5, Coldplay, and Kelly Clarkson.
"Rock City Club is positioned to set the new industry gold standard for discovering, promoting and distributing new music talent and content around the world," said Wishna. "Rock City Club will change the music industry. It will change the way artists are launched, and how their music is promoted and distributed. It will also change the way fans discover new music."
Press and Media Contact:
Dan Wilinsky
Public Relations and Marketing Manager
Rockrena, Inc.
(702) 529-0158
dwilinsky(at)rockrena(dot)com
blog.rockcityclub.com