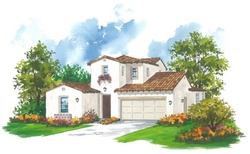 We are proud to be saving valuable resources, and prouder still to have Rockrose homebuyers saving money.
San Diego, CA (PRWEB) March 9, 2010
San Diego new home builder Brookfield Homes will unveil the most energy efficient new homes in the county during its Rockrose at The Foothills model grand opening celebration Saturday, March 27. Every home at the Carlsbad new home neighborhood will exceed California's standards for energy efficiency by at least 35 percent.
"We are excited to be the first builder in San Diego to offer production homes at this level of efficiency," said Lora Heramb, vice president of sales and marketing for Brookfield Homes. "We are proud to be saving valuable resources, and prouder still to have Rockrose homebuyers saving money. As a result of the many eco-savvy features throughout these homes, homeowners will see a difference in their utilities bills as soon as they move in."
Opening for the first time to the public for tours at 10 a.m. on March 27, the three model homes at Rockrose at The Foothills showcase six areas of eco-savvy concentration. Throughout the grand opening weekend, Brookfield Homes representatives will be present at each of the homes to answer questions and to point out key features. The model home tour also includes a self-guided Rockrose Education Garden tour highlighting attractive drought-tolerant landscaping.
The six areas of eco-savvy concentration for each Rockrose home are:
1. Energy conservation. Brookfield is incorporating numerous tactics to make Rockrose homes more energy efficient, including radiant barrier roof sheathing; tight ducts with less than 6 percent leakage; quality installation of insulation; tankless water heaters; improved ceiling insulation (per plan); increased insulation of duct work (per plan); and installed furnaces with an annual fuel utilization efficiency of 92 percent (per plan). In addition, standard appliances in the homes will be Energy Star rated.
2. Water conservation. Inside and out, Brookfield's approach to being water-wise at Rockrose includes: tankless water heaters; WaterSense faucets; low-flow shower heads; recirculating hot water system; insulated hot water loop line; and water sensitive landscaping. Eighty percent of the plants featured in the Rockrose Education Garden won't need supplemental watering, once established. And almost all of the plants showcased are extremely low water intensive.
"Water is a valuable resource here in San Diego, and restrictions on usage have become more and more common," said Heramb. "We know buyers are conscientious about using less water and we know they are worried about water bills going up, so our eco-savvy approach for the new homes at Rockrose includes numerous ways they will save both water and money."
3. Waste reduction. Intensified recycling efforts started at Serenity by Brookfield Homes continue at Rockrose, where 70 percent to 80 percent of construction waste is being diverted from local landfills to certified recyclers.
4. Indoor air quality. Rockrose homes feature a number of environmentally friendly amenities that improve air quality, including: Merv 8 air filters; low VOC carpets and paints; and formaldehyde free insulation. In addition to these standard features, buyers may selection additional options like electrostatic air filters.
5. Sustainable building materials / wood conservation. Rockrose homes are framed using only Sustainable Forestry Initiative Certified Lumber and engineered wood products for added strength. Homeowners also have the option to choose recycled flooring.
6. Renewable energy / solar power (optional). Photovoltaic solar panels that convert the sun's rays into electricity will be available as an option at Rockrose.
The single-family detached homes at Rockrose range from approximately 2,116 to 3,167 square feet. The four floor plans have three to four bedrooms and two to 4.5 bathrooms. Pricing is anticipated to start in the low $620,000s.
The Rockrose model homes and sales information center are located at 3538 Glen Ave., in Carlsbad. Builder Brookfield Homes anticipates the first homes to be available for sale soon. For updates as more information becomes available, join the interest list at brookfieldsd.com. Information also is available by calling 888-284-8861. Model homes and sales information center hours are 10 a.m. to 5 p.m. Tuesday through Sunday and 1 to 5 p.m. Monday.
Brookfield San Diego Builders, Inc. builds new homes in San Diego and Riverside counties. Brookfield currently is building in the master planned communities of The Foothills in Carlsbad, Windingwalk in Chula Vista, The Estates at StoneBridge east of Scripps Ranch in San Diego, Old Creek Ranch new homes in San Marcos and Morningstar Ranch in Winchester. For more information about Brookfield communities and to learn about the company's signature construction differences, visit brookfieldsd.com.
###