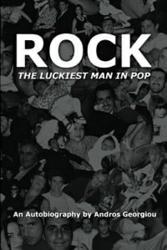 THE LIFE STORY OF GEORGE MICHAEL FROM THE ONLY PERSON WHO KNOWS THE COMPLETE TRUTH!
(PRWEB) November 07, 2012
"Rock" the Luckiest Man in Pop an Autobiography by Andros Georgiou
THE LIFE STORY OF GEORGE MICHAEL FROM THE ONLY PERSON WHO KNOWS THE COMPLETE TRUTH!
Andros Georgiou and Georgios Kyriacos Panayiotou, George Michael to you, are "The Children of The Greeks: 2nd generation cousins." The time was England from the early 1960's to the mid 1980's from the suburbs to the West End, then, it moved throughout the world, right up until they parted ways in 1998. And, for the most part, it was all about the music. ROCK: THE LUCKIEST MAN IN POP, now available through amazon.com, is their story as one. The two were inseparable from when they were raised together from birth through the next 37 years of their lives, until 7 April 1998 happened. George was arrested for "lewd conduct" in a Beverly Hills park restroom. The world knows what happened, as it made worldwide headlines, but, for Andros and George, that date and occurrence is remembered for what was the beginning of a tear in their relationship that broken them completely apart and has remained unresolved to this day.
Andros Georgiou is a husband, father of three, a music producer, entrepreneur, and, now, author. This is a story he's wanted to tell the world, especially the fans of George Michael, for a long time: His life story standing next to one of the greatest rock icons of our time or any other. As he puts it, "I readily admit this. This exercise could be nothing more than just conceit on my part, but something truly amazing happened to me in a time in life of a young man that was so special and unique, that I can't see how it could ever be repeated now given the whole climate of the music industry as a whole and going forward into my foreseeable future."
This new biography is more than just a life recounted or a guilty pleasure for its reader or fan of George Michael. The release of this book is also a plea by its author for your help who wants to mend a relationship that became inexplicably and irrevocably broken.
Available on Amazon "ROCK" The Luckiest Man in Pop'
For more information, James Coleman (424) 274-1648 or press(at)androsgeorgiou(dot)com