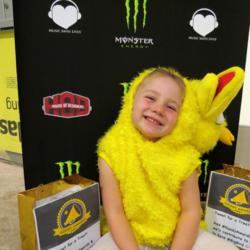 "Don't forget to vote! It's a Goody Thing to Vote." ~ Rosanna Jean Foss
Santa Monica, CA (PRWEB) October 29, 2012
Just-in-time for Halloween and final election push, the Goody Awards releases a new video, Halloween Goody Laughs – Tweet to Save Big Bird (http://youtu.be/Jsm4zG4RkXo). With a big smile, 4-yr-old actress Rosanna Jean Foss emphasizes in this video, "Don't forget to vote! It's a Goody Thing to Vote." The 2008 Presidential election turnout was only 63%, and every vote will count on Nov 6, 2012.
While the Goody Awards is a non-partisan organization, this social good organization supports arts education and encourages everyone to vote. Goody Awards Founder Liz H Kelly shared, "Arts education is so important because arts is our second-largest export in America. To support arts education, the Goody Awards provides pro bono PR to causes such as Create Now and the Young Storytellers Foundation, who provide creative mentoring for underserved students in Los Angeles."
In a Big Bird costume, 4-yr-old Rosanna shares, "I'm a little bird, and I'm going to save the Big Bird." For every tweet that includes #GoodyAwards between 10/26/12 and Election Day 11/6/12, the Goody Awards will make a contribution to PBS to save Big Bird. And these tweets will also help support Big Bird's Sesame Street friends created by Jim Henson, including Bert, Ernie, Cookie Monster, Grover, Count von Count and Oscar the Grouch.
This Halloween Goody video was filmed at the Picture Healing BooGood Re-launch Party in Los Angeles, CA with social good leaders in costume, including Roozt.com, SocEntLA, Eco-Made.com and Transforming the World Through Comedy. During this celebration, Picture Healing unveiled their first customizable, mobile app solutions for non-profits for Music Saves Lives. Picture Healing Founder, Chris Brereton, shared with the crowd, "We are stoked to be able to empower non-profits to take their missions mobile and give them a platform to scale their missions to an all new level!"
On Tuesday, Oct 30th, the Goody Awards will be the guest speaker at SocEntLA's at Cork Bar in downtown Los Angeles, where they will share this Halloween Goody Laughs Video and encourage people to vote. Everyone can Tweet for a Treat at this event, and include #GoodyAwards to save Big Bird. Fellow do-gooder companies will be there too, including LA +Acumen (This month's #SocEnt.LA Tuesdays host), The Hub LA, Social Capital Philanthropists, Picture Healing, Roozt, ThrdPlace, InVenture, Los Angeles Microfinance Network, Global Health Review, DIRTT and B Revolution.
About the Goody Awards
Goody Awards™ does Social Good Awards via social media, special awards at events and cause marketing campaigns, similar to the million$ advertising campaigns they managed for Fox Interactive Media/MySpace. To support causes, the Goody Awards provides pro bono PR for charities who are part of their cause marketing campaigns with brand sponsor support. To "Catch Someone Doing Good", users are encouraged to tweet immediate shout outs using #GoodyAwards and five award types: #GoodDeedGoody, #HeroGoody #TeamGoody, #EcoGoody and #TeacherGoody. CEO/Founder Liz H Kelly has built advertising campaigns and recognition programs for Fox Interactive Media/MySpace, Paramount Pictures, and the first Sprint PCS / Sprint Spectrum. Global Media Experts, Actors, Producers, Mobile Leaders and Philanthropists are on the Goody Awards Advisory Board. Follow Goody Awards on Facebook http://facebook.com/goodyawards and Twitter http://twitter.com/goodyawards