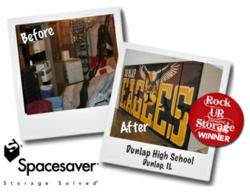 Six of the last ten BCS National Champion Teams picked Spacesaver to store their gear, said Milissa Rick, Director of Marketing Commerical Business
Fort Atkinson, WI (PRWEB) January 09, 2012
Spacesaver®, a leading innovator and manufacturer of storage solutions, launched the second annual "Rock UR Athletic Storage" makeover contest today, which offers two $30,000 athletic equipment storage makeovers to one U.S. college and one U.S. K-12 school.
The contest, which runs today through May 1, 2012, asks athletic directors, coaches, or school staff from a college or school to submit at http://www.rockurstorage.com a one-hundred word summary on why their program is in need of new athletic storage and photos of their current athletic storage situation. Students, coaches, parents, alumni, etc., can then immediately start voting for their school at the Rock UR Athletic Storage website.
The winning "Rock UR Athletic Storage" school and college will be determined through this online voting from January 6th through May 1st 2012, 5:00 p.m. (CST). Spacesaver will announce the contest winners on May 2nd, 2012 at noon (CST) on Facebook, Twitter, YouTube and the http://www.rockurstorage.com contest website.
Last year Dunlap High School in Dunlap, IL, was the winner of the Rock UR Athletic Storage Contest. Their new Spacesaver system stores equipment for six to seven teams at the high school. "It has allowed us to move teams out of storage areas where more than one team shared a space," said Athletic Director of Dunlap High School, Duane Peterson. "Boys and girls swimming, cheerleading, volleyball, baseball and athletic director supplies are all currently being housed in the system."
The 2012 Rock UR Athletic Storage contest is being kicked off in San Antonio this week at the American Football Coaches Association conference, a four-day coaching clinic for AFCA members on issues that affect the football coaching profession. Spacesaver will be exhibiting at booth #1043, spreading the word on the "Rock UR Athletic Storage" contest, and educating participants on the latest trends in athletic equipment storage solutions.
"We are excited to expand the contest this year to include both a collegiate as well as a K-12 edition," said Milissa Rick, Director of Marketing for Commercial Business at Spacesaver. "Colleges and universities across the U.S. will now have the opportunity to join an outstanding roster of schools that already have Spacesaver athletic storage in their facilities. In fact, 6 of the last 10 BCS National Champion Teams picked Spacesaver to store their gear!"
Mark Haubenschild, Vice President of Sales at Spacesaver adds, "This contest is just one of several ways that we will be showcasing our athletic storage solutions in 2012. From high schools to colleges to professional sports teams, Spacesaver has decades of experience organizing, protecting and saving the space for elite athletic programs at all levels. And, recently, with some of our new product launches, such as the ActivRAC, we continue to expand our solution set from utilitarian models to highly personalized and customized systems for organizing and protecting this critical investment."
To learn more about the "Rock UR Athletic Storage" contest, please visit http://www.rockurstorage.com or for more information about Spacesaver's athletic storage solutions visit http://www.spacesaver.com.
About Spacesaver
A leading storage solutions provider, Spacesaver Corporation designs, manufactures, and markets high-density mobile storage systems and an array of storage solutions and related accessories uniquely designed to help decision-makers better manage time, space, and security. Since 1972, Spacesaver has successfully installed more than 100,000 storage systems to solve storage challenges for those in education, government-military, healthcare, museum, public safety, business, and industrial sectors. A division of KI, Green Bay, Wis., Spacesaver employs nearly 500 at its manufacturing facility in Fort Atkinson, Wis. The manufacturing plant, which has earned ISO 9001:2008, encompasses 358,000 square feet. Sales, installation and service are provided by The Spacesaver Group of independent distributors.
###