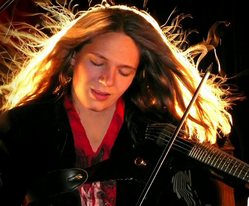 Serj Tankian stated, Antonio Pontarelli is a great musician that brought ambiance to the album.
Los Angeles, CA (PRWEB) August 18, 2008
The Malibu Music Awards, an innovative songwriting competition which is part of the Malibu Arts Festival, has awarded singer-songwriter-rock violinist, Antonio Pontarelli, the 'Grand Championship'. A panel of industry professionals judged the event which drew a crowd of over 12,000 people over the weekend. Other notable awards went to Colbie Caillat for 'Breakout Artist of the Year' and Pat Benatar for 'Female Music Legend'. The 'Grand Prize' was presented to Pontarelli by TV legend Dick Van Dyke.
Pontarelli has won dozens of awards over the years as a songwriter as well as a performing artist. He won his first national championship at age 13 when he became the Grand Champion of 'America's Most Talented Kids' where he competed against American Idol winner Jordan Sparks. In 2005 and 2007, he won the ASTA National Alternative Styles Competition for 'Best Rock' and the Southern California Music Award for 'Best Instrumentalist'. In January, Pontarelli's band won the 2008 Inland Empire Music Awards for 'Best Rock Band'. In April 2008, he was the 'People's Voice' Winner of the International Songwriting Competition (ISC), which had over 15,000 entries.
Pontarelli has been involved with numerous projects including a collaboration with Grammy award winner Serj Tankian, the voice of 'System of a Down' (SOAD). Pontarelli added his rock violin electricity to his solo CD 'Elect the Dead'. "Serj Tankian stated, Antonio Pontarelli is a great musician that brought ambiance to the album." The album peaked at four on the US Billboard charts.
The passion to bring music into people's lives extends far beyond the concert stage for Pontarelli. In 2002, he created a non-profit foundation to fund musical projects that benefit those who can't afford musical instruments and instruction. He has done workshops in schools and universities throughout the US and has made Grammy Red Carpet appearances promoting Grammy Camp and music in the public school system. On August 30, 2008 his band will take a break from their tour to be a special guest of NAMM's Museum of Making Music in Carlsbad, CA. Pontarelli will be giving an 'Informance' that reveals some of his secrets that bring the haunting timeless magic of the violin to popular music. Pontarelli will be playing some unique electric violins from his own collection and unveiling a few from the museum's special exhibit. Advanced ticket purchase recommended at http://www.museumofmakingmusic.org or (760) 438-5996, ext. 212.
The band will be making other special Southern California appearances at Dos Logos Amphitheatre, 2755 Lakeshore Drive, at the Promenade in Corona, CA on August 23, 2008 from 7-9 p.m. The event is underwritten by a generous grant from Walkers Motors and is free to the public. September 13, 2008 at 6 p.m., they will be headlining the Blue Jay Jazz Musical Scholarship Fundraiser to be held at a prestigious estate in Lake Arrowhead, CA. Ticket information can be found at http://www.bluejayjazz.com.
For more artist information on Antonio Pontarelli please visit http://www.antoniomusic.com or http://www.myspace.com/antoniopontarelli.
###