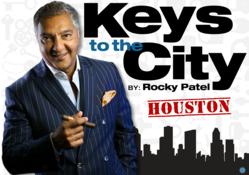 Indoor places to smoke cigars in Houston are rare; but he does reveal two cigar lounges that come with 'all the bells & whistles.'
Easton, PA (PRWEB) June 25, 2013
The all-new Cigar Advisor is an online cigar magazine that brings a fresh, irreverent, and down-to-earth perspective on all things cigars to thousands of smokers. In addition to educational cigar content and behind-the-scenes cigar industry articles from some of the business's top names, Cigar Advisor delivers an array of content about a variety of topics of interest to people who enjoy the cigar lifestyle. The magazine also features cigar reviews and ratings submitted by real smokers. Cigar Advisor has just published a travel guide by Rocky Patel Cigars' namesake CEO, and his picks for the best restaurants, hotels and cigar lounges in Houston.
Houston is a melting pot of cultures, and much more, according to Rocky Patel, writing in this month's "Keys to the City." "I visit at least four times a year, and the city has become a favorite," he says. "Like D.C. and New Orleans, Houston has a very diverse ethnic culture." That's exactly why he likes it. Patel notes some of the reasons for this claim, mentioning the city's many universities and medical centers, which have attracted educators and doctors from all over the world. In turn, "the city has spawned some great restaurants that cater to practically every domestic and foreign cuisine," and in his opinion, makes Houston one of the nation's best "food cities."
"It's a haven for foodies," he writes.
Rocky also makes the point that, as a cigar enthusiast, indoor places to smoke cigars in Houston are rare; but he does reveal two cigar lounges that come with "all the bells & whistles." And if you can't make it to his recommended cigar lounges, finding a place to enjoy a smoke isn't as hard as one might think: "even though smoking indoors in Houston is widely verboten, that's not much of a problem - with average highs above 60° F year-round, smoking cigars outside is comfortable and quite commonplace."
His article details some of his top picks for his favorite eateries, as well as Houston's finest hotels, and cigar lounges. He includes contact information, giving readers the opportunity to book a reservation.
About Cigar Advisor Magazine
Cigar Advisor magazine is a digital publication created for real cigar enthusiasts who love tobacco and live the lifestyle. Cigar smokers are passionate about almost everything they do - whether it's the drinks they savor, the food they devour, the cars and motorcycles they dream of, the sports they're fanatical about or the women they love, Cigar Advisor shares those passions with a razor-sharp edge, soaking up each day and experience as if it were our last. Find that passion and more on display at CigarAdvisor.com.