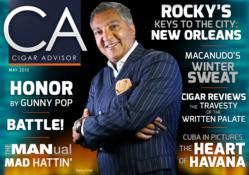 Having Rocky Patel write our New Orleans "Keys to the City" column was a no-brainer.
Easton, PA (PRWEB) May 13, 2013
The all-new Cigar Advisor is an online cigar magazine that brings a fresh, irreverent, and down-to-earth perspective on all things cigars to thousands of smokers. In addition to educational cigar content and behind-the-scenes cigar industry articles from some of the business's top names, Cigar Advisor delivers an array of content about a variety of topics of interest to people who enjoy the cigar lifestyle. The magazine also features cigar reviews and ratings submitted by real smokers. The May issue features a cover story from lawyer-turned-cigar mogul Rocky Patel, who gives his travel tips for visiting the great city of New Orleans.
Rocky Patel cigar are among the most popular cigar brands in the USA today, selling millions of cigars annually and dominating retail stores and websites across the country. Rocky is one of the business's most recognizable faces as he travels constantly to events, meeting smokers and spreading the word about his premium cigars.
Patel's hectic travel schedule means he knows the ins and outs of all the major US cities; which is why Cigar Advisor enlisted him to write a monthly column which provides travel tips to cigar enthusiasts visiting these places for the first time. He details the best hotels, restaurants, nightlife, and smoking spots in a variety of cities. This time, Rocky lets Cigar Advisor readers in on his hidden gems in New Orleans, including where to go for a good time beyond Bourbon Street.
"Having Rocky Patel write our 'Keys to the City' column was a no-brainer," said Cigar Advisor Managing Editor, John Pullo. "The man spends over 200 days a year on the road promoting his brand, so he's got plenty of experience finding the best spots in each city. As an avid cigar smoker himself, he's the perfect fit to give our readers travel advice personalized for those who enjoy premium cigars and the lifestyle that goes along with them. I expect that this month's article that details Rocky Patel's favorite places in New Orleans will be a valuable resource for smokers planning vacations to the Big Easy."
The May issue of Cigar Advisor also features a moving piece written by "The Cigar Marine," Sgt. Nick Popaditch. In his article, Popaditch describes the feelings of patriotism and honor elicited by his experience fighting in the Iraq War. He also delivers a harrowing tale of an attack on his unit that resulted in life-threatening injuries from a RPG fired at his tank.
Sgt. Popaditch was immortalized as "The Cigar Marine" after he was captured in a photo enjoying a celebratory cigar in his tank turret just before Saddam Hussein's iconic statue in Firdos Square was torn down. His passion for cigars is what links him to Cigar Advisor, but his emotional story and his raw patriotism are things by which any American will be inspired.
People interested in learning more about Cigar Advisor should visit CigarAdvisor.com - where they can read all the articles, and sign up to be notified when new articles are released.
About Cigar Advisor Magazine
Cigar Advisor magazine is a digital publication created for real cigar enthusiasts who love tobacco and live the lifestyle. Cigar smokers are passionate about almost everything they do - whether it's the drinks they savor, the food they devour, the cars and motorcycles they dream of, the sports they're fanatical about or the women they love, Cigar Advisor shares those passions with a razor-sharp edge, soaking up each day and experience as if it were our last. Find that passion and more on display at CigarAdvisor.com.