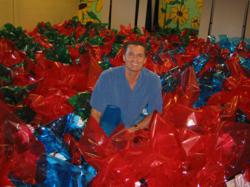 Even the smallest gesture can often make a huge impact on the lives of those less fortunate ...
Sarasota, FL (PRWEB) December 05, 2012
In the fall of 2001, Sarasota businessman Rod Khleif and his brother decided to forgo Thanksgiving football games and instead provide holiday meals for local needy families. They shopped and assembled giant food and gift baskets and distributed them to local desperate families that Thanksgiving Day. Thus, the idea for the Basket Brigade and Tiny Hands Foundation was founded.
With many local families still suffering from the current economic crisis, 2012 is proving to be the Foundation's greatest challenge to date. Help is desperately needed for the foundation to meet its' goal of feeding the 1500 needy families they've identified. The foundation is looking to the local Sarasota/Bradenton community to once again help provide vital manpower and economic resources so that those is need can have a little better holiday season, even in these tough times. Volunteers help assemble the giant baskets of food and gifts that include a complete holiday meal and then help deliver them to the needy families.
DONATIONS & VOLUNTEERS ARE NEEDED --- December 22, 2012 --- 9:00 A.M.
Sarasota Boys & Girls Club register at tinyhandsfoundation.org
3100 Fruitville Road
Sarasota, FL 34237
"We've been at this for 11 years now and 2012 is our toughest year ever", says Rod Khleif, Tiny Hand's Executive Director and former sole financial benefactor. "The first 7 or 8 years I paid for all of the food, but then I also ended up a casualty of the real estate crash. I know first hand what's it like to lose everything."
"With this difficult economy, and more and more families in need, 2012's Annual Basket Brigade is going to require more food, more money, and more staffing than ever before. I want to remind others who's lives are full that there are many families who go without even basic things. I encourage people to get involved. Even the smallest gesture can often make a huge impact on the lives of those less fortunate". Khleif adds. " Every child deserves a Christmas. Bring your own children to help so they can also see what giving back to those in need is all about."
If you would like to make a donation, or volunteer, please visit the Tiny Hands Foundation website at http://www.tinyhandsfoundation.org or by calling 1-941-343-8023. Local organizations that help with the effort include: Boys & Girls Club of Sarasota; Sarasota Adopt-a-Family; Healthy Start of Sarasota County; Habitat for Humanity of Sarasota; the Friendship Volunteer Center; and various area church groups.
About Tiny Hand's Foundation:
The Tiny Hands Foundation's Annual Basket Brigade provides assistance to households with children who live below the poverty line. Under the subsidy of Rod Khleif, the Foundation has maintained it's annual distribution of holiday food and gift baskets, and has identified 1500 at risk families this year. With the assistance of his family, friends and volunteers, the Foundation has fed over 6,000 families since it's inception in 2001.