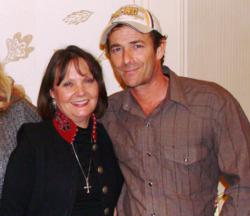 Western Wishes is dedicated to our goal of reining kids in the right direction, and 'Leaving A Legacy of Goodwill The Cowboy Way
Cheyenne, WY (PRWEB) July 17, 2012
Before stars gallop into town to support Western Wishes'"8 Seconds to Glory" charity gala event, the film's leading men will be available for media interviews before the gala event kicks off. Luke Perry, who portrayed famous bull rider Lane Frost, and Stephen Baldwin as Tuff Hedeman, as well as the bull riding legend Hedeman himself, will be in attendance at the event July 21 at the Little America Hotel Event Center.
The Western Wishes "8 Seconds to Glory" charity gala event is hosted by Western Wishes, a non-profit organization that endeavors to support and lift the spirits of children suffering from illness and their families by granting them a wish the Western way. The first annual event will come to America's heartland along with original cast members from the "8 Seconds" film and several celebrity musical guests who will provide entertainment. The event will be an opening celebration held in conjunction with the Cheyenne Frontier Days Rodeo and Championship Bull Riding (CBR) World Championships.
"Western Wishes is unique in that they give to children, but the children that Western Wishes gives to really learn to give back. That's exciting to be a part of," said Perry.
The gala will include a red carpet ceremony which will begin at 6:30 PM with confirmed guests Perry, Baldwin, Hedeman, Rhonda Gunn, Susie Dobbs, Susie McEntire, John Wayne Schulz, Justin McKee, World Champion Bareback Rider Kelly Timberman, All-Around Rodeo Legend Larry Mahan, and many more invited celebrities. But the real stars of the night will be the Western Wishes Wish Recipients representing five Western Wishes chapters.
"Western Wishes is dedicated to our goal of reining kids in the right direction, and 'Leaving A Legacy of Goodwill The Cowboy Way'," said Founder and President Donnalyn Quintana.
The Western Wishes organization, which has more than a dozen chapters nationwide, has received enormous support ahead of its gala event, including celebrities, business sponsors and the organization's executive board of directors. Sponsors for the charity gala include VIP Sponsorship from Exclusive Genetics, Title Sponsorship from Cowgirl Tuff Jeans, Presenting Sponsorship from Little America Hotel & Resort Cheyenne and Television Sponsorship from Championship Bull Riding.
Information about Western Wishes' "8 Seconds to Glory" charity gala event can be found at westernwishes.org. Eileen Phillips, Communications Director, can also be reached at Eileen(at)westernwishes(dot)org or call 817-757-9216.
About "8 Seconds"
The film "8 Seconds", originally titled "8 Seconds to Glory", is a biographical film released in 1994 about rodeo legend and world bull riding champion Lane Frost. The film's title "8 Seconds" denotes how long a bull rider must stay on a bull for the ride to be scored.
To schedule your Exclusive Interview or Coverage on the Red Carpet, contact YM & Associates PR Media@YM-PR.com or 949-244-9769.
Yvette Morales
YM & Associates
PR | Marketing | Branding
California | New York
949.244.9769 | 310.499.0906 Fax
YMoralesY(at)YM-PR(dot)com
http://www.YM-PR.com
Twitter @YMTheBevHillsPR