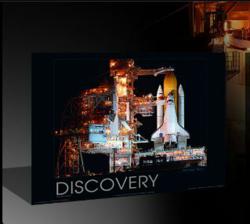 I hope these posters will serve as a reminder of the incredible historical significance of the Discovery Space Shuttle.
Washington D.C. (PRWEB) April 17, 2012
Beloved photographer Rodney Lough Jr. is proud to commemorate the final mission of the Discovery Space Shuttle, releasing a series of collectors' posters. Available online, the poster series includes nine of Lough's most celebrated images of the 39th Discovery Launch.
Rodeny Lough Jr., M.Photog is hailed as a modern master, and has earned countless awards and honors from the most prestigious organizations in the world. His stunning photographic masterpieces are displayed in permanent museum collections, including the Smithsonian. Although he specializes in wilderness landscape photography, Rodney's expertise and interests are far too vast for any one category. Rodney's work can been defined as the common thread of the human experience. Captivating audiences around the globe, he also publishes award winning books and leads outdoor photography workshops through the United States.
Rodney had the opportunity to photograph a Discovery mission on February 24, 2011. Flight STS-133 was Discovery's 39th launch, and the 133rd launch of the shuttle mission program. In commemoration of Discovery's final mission, nine of the most memorable moments, from Flight STS-133, have been chosen to be released as a collector posters series. The posters include 'All Eyes on Discovery,' 'Rocket Scientist Graffiti' and the epic 't-Minus 19:07' which was taken from "inside the fence" on the actual pad. Widely known for his landscape photography, Rodney was invited as a fresh set of eyes to capture this extraordinary moment in American history. These spectacular images of Discovery's farewell flight are too important not to share with collectors and space enthusiasts worldwide. Discover these moments in American history at discovery.rodneyloughjr.com.
"Capturing these photos was a once-in-a-lifetime experience that I am so excited to share," said Rodney Lough Jr. "I hope these posters will serve as a reminder of the incredible historical significance of the Discovery Space Shuttle."
Scheduled to take place Tuesday, April 17, the shuttle's final voyage will begin at Cape Canaveral and commence at the Smithsonian National Air and Space Museum; where the shuttle will be on display. As it travels to its final destination, NASA's retired Space Shuttle Discovery will be flying over portions of Washington D.C. Rodney chose to release these famous images simultaneously in celebration of this historic event.
Though he is most famous for his landscape photos, Rodney was selected to capture Discovery's farewell launch because he is recognized as a master photographer, even outside of his traditional realm. Watch for more excited announcements about the life and career of Rodney Lough Jr. as he continues to captivate the world with his unparalleled artistry.
###
ABOUT RODNEY LOUGH JR
The photographer is internationally renowned as the leading wilderness landscape photographer. He is accomplished in leading photography to new heights and had been hailed the modern day Ansel Adams. He currently lives in Oregon with his wife and four children and avidly explores the wilderness across the globe. Rodney Lough Jr.'s mission is to enrich people's lives by bringing nature based art into every home in the world.