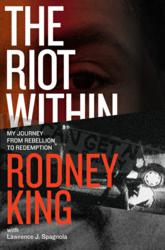 "It's now time for me to try to reach out and help others get to their better place. By letting go of the Riot Within, by telling my story truly and honestly, I have been able to heal." – Rodney King
San Francisco, CA (PRWEB) April 24, 2012
Rodney King's The Riot Within is a powerful, revealing memoir in which an unlikely icon tells for the first time the full story of his life, taking the reader through a moment-by-moment account of the infamous beating as well as the harrowing stories of the widespread violence sparked by the officers' acquittal—violence that nearly destroyed the city of Los Angeles.
As a child, King was surrounded by poverty and violence. As an adult, he has struggled with addiction and frequent run-ins with the law. Now, on the twentieth anniversary of the Los Angeles riots, he tells his side of the most notorious police beating of our time and the court cases that followed—how it all played out on the street, in the courtroom, and in his own life. It is a true story of one man's determination to overcome his brutal past and find lasting peace, despite the riot within.
While Rodney King is now an icon, he is by no means an angel. King has had run-ins with the law and continues a lifelong struggle with alcohol addiction. But King refuses to be bitter about the crippling emotional and physical damage that was inflicted upon him that night in 1991. While this nation has made strides during those twenty years to heal, so has Rodney King, and his inspiring story can teach us all lessons about forgiveness, redemption, and renewal, both as individuals and as a nation.
Rodney Glen King is known for being the victim in a notorious police brutality case with the Los Angeles Police Department on March 3, 1991. King was born in Sacramento, California, to Odessa King. His father, Ronald King, an alcoholic, died at age forty-two. King grew up in Pasadena, California.
Lawrence J. Spagnola is the coauthor of the New York Times bestselling My Appetite for Destruction by Steven Adler; and Christopher Award–winning writer of the Emmy-winning, Golden Globe–nominated television movie The Courageous Heart of Irena Sendler. He is a Harvard graduate and a Rockefeller Fellow.
The Riot Within My Journey from Rebellion to Redemption.
by Rodney King with Lawrence J. Spagnola
ISBN 9780062194435 | May 2012