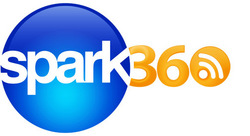 "There's an injustice happening to the American people, and we need change when it comes to medical debt on people's credit reports," Anderson told spark360 host/managing editor Renay San Miguel.
Dallas, TX (PRWEB) June 7, 2010
Spark360's "Social Business Television" becomes "Social Advocacy Television" with the story of Rodney Anderson, a Dallas-based mortgage banker who has launched a one-man crusade to raise credit scores for potential homeowners by proposing legislation and working to push it through Congress.
Anderson, a mortgage banker with Supreme Lending, has spent money and man-hours to work the Washington D.C. maze of power brokers and find legislative support for HR 3421, the Medical Debt Relief Act of 2009. Anderson's bill would correct a little-known stipulation in credit reporting: a medical debt collection can stay on a borrower's records for seven years, even if the debt was paid in full or settled. The Medical Debt Relief Act would require that the paid or settled debt would disappear from a borrower's credit report after 30 days.
"There's an injustice happening to the American people, and we need change when it comes to medical debt on people's credit reports," Anderson told spark360 host/managing editor Renay San Miguel. "In our studies, it's affecting more than 40 percent of all Americans."
Anderson – host of a weekend radio show on personal finance who has his first book, "Credit 911," publishing in August – began his journey to Washington after hearing stories from borrowers who were denied home loans or refinancing because of a forgotten hospital bill. Jennifer Trimmer sought treatment for a heart condition several years ago; a debt related to that experience cost the single mother a refinancing option on a rental property.
"I make good money and I pay my bills on time, and I thought everything was going great and I wanted to take advantage, again, of the lower interest rate – and I can't," Trimmer told San Miguel.
"It's very discouraging, obviously, to those people who have never missed a payment to anyone, and have a $20, $30 medical collection from five years ago that drops their scores, and I have to look at them and say, 'I'm sorry, your credit score doesn't meet the requirements to obtain a mortgage loan,'" said Suzie Reed, Supreme Lending's Executive Director of Mortgage Operations. "I get everything from anger to desperation – 'I'll pay it, I didn't even know it was there, if I just pay it can we have our house?' It's heartbreaking."
Congresswoman Mary Jo Kilroy (D-Ohio) has introduced the Medical Debt Relief Act of 2009 and the bill currently has 101 co-sponsors. Senator Jeff Merkley (D-Oregon) has taken up the cause in his chamber. Anderson estimates that the Act would pump billions of dollars into the U.S. economy and immediately raise credit ratings for many Americans. But Anderson says he has not contributed any money to any member of Congress or to political action committees, and has turned down outside funding help from interested individuals and organizations.
"It's a two or three-page bill. We want to keep it simple," Anderson said. "We understand that this is a simple solution that millions of Americans need. So I didn't want other people to have a different agenda."
"With Rodney Anderson's story, spark360 branches out into a different genre of storytelling – one that is still related to business but is also more issues-oriented and has the potential to impact a lot of homeowners and borrowers," said San Miguel. "Anderson is taking a big gamble here to try and effect some positive change in Washington. You can't ask for a better story than that."
Senior Producer Steven Swaim added, "Working with impassioned business owners and entrepreneurs is something we enjoy on a daily basis. Getting the opportunity to highlight Rodney's story has been an experience that we hope to repeat soon."
About spark360
spark360 is a Web-based business television program that celebrates the spark of entrepreneurship in America by featuring the unique stories of small and middle-market businesses.
spark360 also provides a credible and relevant outlet to get your story to a global marketplace through our exclusive 360 Distribution social media platform. spark360 delivers broadcast-quality, network news-style programs via a comprehensive SEO-optimized "full circle" distribution strategy that reaches every corner of the Internet.spark360 is a division of Splash Media, L.P. http://www.spark360.tv
For media inquiries for spark360, please contact: Steven Swaim sswaim(at)spark360(dot)tv
About Splash Media
Splash Media L.P., based in Addison, Texas, creates and develops custom web-based communications and training solutions that are powered by video. We specialize in developing video communications strategies and video delivery platforms that drive our customer's bottom line. Splash Media is a leader in the Enterprise Video Communications industry and has been delivering Internet enabled strategic video solutions since 2004. http://www.splashmedia.com
For media inquiries for Splash Media, please contact: Chris Kraft ckraft(at)splashmedia(dot)com
###