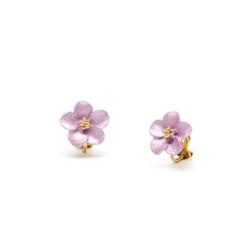 We ... resist selling cheap or inferior jewellery where quality, finish or durability is compromised
London, UK (PRWEB) February 29, 2012
Rodney Holman, one of Britain's leading designer of fine fashion jewellery for the last thirty years, launches his latest costume jewellery collection on the international fashion destination for women who cannot or do not want to have their ears pierced, Make Me Beautiful - clip on earring specialists.
"After the excitement of London Fashion Week, where numerous designers showcase their new collections, the time comes when retailers, such as make-me-beautiful.co.uk, make decisions regarding the new lines they will promote," spoke Make Me Beautiful founder, Misae Richwoods. "There was no need for deliberation when talking about Rodney Holman's exquisite new Spring/Summer 2012 collection, offering a great design for every taste. The pieces range from delicate, sensual gold-plated flowers, to impeccable pearls set among elegant diamante encrusted frames. There is no doubt that Rodney Holman has impressed the world of designer jewellery once again."
Rodney Holman believes that his "ever-changing fashionable range is one of the most comprehensive selections of high quality jewellery available in the UK. We source our ranges from world leading manufacturers and resist selling cheap or inferior jewellery where quality, finish or durability is compromised." The Spring/Summer 2012 collection features classically inspired design, that merges the vintage style with a modern twist. Semi hoops, 50's glamour patterns, and delicate pastel shades define the new range, which has already launched on Make Me Beautiful. The full collection is available to see and purchase on http://www.make-me-beautiful.co.uk.
About Make Me Beautiful
Make Me Beautiful was the first site that made clip on earrings sexy and stylish again. Whilst other sites focus on peddling Pat Butcher's left overs, Make Me Beautiful curates a fashion forward collection of the best of Britain's talent with over 1,000 lines from leading designers all in clip on, screw on, spring loaded or other non-pierced designs. Make Me Beautiful serves customers in over 30 nations and three languages via it's online web store at http://www.make-me-beautiful.co.uk together with partner sites from it's headquarters in Wimbledon, London and customer service centre in Florida, USA. Make Me Beautiful is a trading name of Rising Dragon Enterprises Ltd.
Media Contact:
Misae Richwoods
0208 123 9800
press(at)make-me-beautiful(dot)co(dot)uk
http://www.make-me-beautiful.co.uk
###