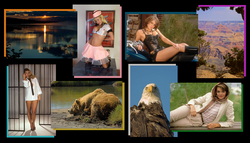 "It's not the Look, it's the feeling!"
Arvada, CO (PRWEB) February 12, 2010
Denver area photographer, Rod Pilcher, opens his newest studio and first time gallery at the newly remodeled and restored "Heritage Square Victorian Village". For 35 years Rod has been a professional/commercial photographer specializing in Fashion, Glamour and Artistic Nude photography, as well as Travel, Scenic and Wildlife work that can now be viewed in his new gallery. Rod has worked with many Denver area modeling agencies helping aspiring models develop their portfolios, composites and websites. Rod, along with his late stylist, Laurena Miller created "Personal Best" Glamour Portraits, a service designed for all women who want to explore their glamorous and sensual sides, "... everything or nothing, something special for you, or that special someone."
Much of Rod's scenic and wildlife work has sold internationally, particularly his images of Mesa Verde and other Anasazi ruins. His stock photo agency, Alamy, in London, features a wide variety of Rod's work. Rod's thousands of images include scenic and wildlife from Colorado, Wyoming, Utah, Arizona, South Dakota, New Mexico and Alaska, with a trip planned to London in the early spring.
The "Heritage Square Victorian Village, once a major tourist attraction just west of Denver, is currently under going a major renovation in an attempt to return it to it's hay day in the 70's. The small victorian styled town, is home to many unique shops and artisans. Home to the "Heritage Square Music Hall" and as a small amusement park, the village features daily gunfights, car shows, holiday events and can host any kind of family or company picnic or party.
Rod Pilcher Photography is also available for many other types of photography. Sports, product, architectural, event and insurance documentation are just of the other services offered. Rod's wife, Martha, a retired teacher and accomplished photographer herself, will be joining Rod, and will soon be displaying her work in the gallery as well. Rod's studio, the old "Notz Landing" 50's style diner, combines a modern film and digital photography studio with the charm and elegance of a Victorian parlor, featuring many old cameras and antiques. Depending on shooting assignments, the studio and gallery are open Thursday through Sunday, 12:00 p.m. to 6:00 p.m. during the April to October season. The studio and gallery are always open by appointment and may be open longer depending on visitor traffic. Stop by anytime to visit, look around or chat, or contact the studio at 303-231-9631.
###