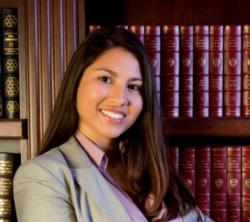 "It will be great to have a husband and wife law firm that is dedicated to exceeding the expectations of our clients through personal attention, aggressive advocacy and quality representation. That is what we stand for,"
Rancho Cucamonga, CA (PRWEB) March 29, 2012
Rodrigo Law Firm has expanded its areas of practice in Bankruptcy, Criminal, and Family Law with the addition of partner, Attorney Candice A. Garcia-Rodrigo. Mrs. Garcia-Rodrigo is a well-established attorney who practices Estate Planning, Probate, Trust Administration, Corporations, Contracts, Business Transactions, Civil Litigation and Real Estate Transactions.
Candice A. Garcia-Rodrigo, who is married to Attorney Aruna P. Rodrigo, founder of Rodrigo Law Firm, officially joined the firm in February 2011 after practicing law for several years at local Inland Empire law firms. In 2006, Garcia-Rodrigo earned her Juris Doctorate from the University of La Verne, College of Law, where she received several awards for excellence in her studies. Thereafter, in 2007, Mrs. Garcia-Rodrigo passed the California Bar Examination on her first attempt. She then earned her Master of Public Administration and her Master of Science, Leadership and Management from the University of La Verne in 2009.
In addition to the publication of several articles and legal guides, Mrs. Garcia-Rodrigo educates other local attorneys on legal-related matters, such as Civil Discovery practice and litigation. Her ability to network well with her peers and dedication to maintaining a proactive role within her community, has allowed Mrs. Garcia-Rodrigo to be an extremely valuable asset to Rodrigo Law Firm.
With the expansion of Rodrigo Law Firm and addition of partner Candice A. Garcia-Rodrigo, the firm will have the ability to offer more to their clients.
"We will be well rounded for all our clients' needs," said Garcia-Rodrigo. "It will be great to have a husband and wife law firm that is dedicated to exceeding the expectations of our clients through personal attention, aggressive advocacy and quality representation. That is what we stand for," she added.
Rodrigo Law Firm, based in Rancho Cucamonga, California represents clients in the Inland Empire and surrounding areas, while also providing special appearance services for other local and national law firms.
For more information on the Rodrigo Law Firm call 800-581-4049, 909-212-0320 or visit http://www.rodrigolawfirm.com.
For media inquiries, interviews and speaking engagements, contact:
Yvette Morales
YM & Associates
PR|Marketing|Branding
California | New York
949.244.9769 | 310.499.0906 Fax
YMoralesY(at)YM-PR.com
YM-PR.com