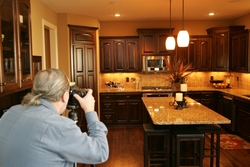 When it's time for that family to move in, they will know we worked together to build the home of their dreams.
Lenexa, KS (PRWEB) April 4, 2011
Rodrock Homes is announcing its DESIGN FREEDOM program, which gives the buyer a voice in the building process. This unique concept allows the homebuyers to make selections and changes which transforms a house into their home. This program will be implemented in time for those looking for a home during the 49th annual Spring Homes Tour in Kansas City April 16-May 1.
Moving into a new home is the culmination of countless decisions. Starting with where to build and which floor plan, and ending with style of doorbell or color of the mailbox, all these questions must be answered. The goal of the DESIGN FREEDOM program is to allow homeowners a voice in the decision making process. The stage of construction of the home will determine which selections are still available.
The family owned and operated company has over 20 different floor plans, with 16 furnished models being built in 10 different new home communities throughout Johnson County, Kansas. A homebuyer may select a homesite to build any of these plans or choose a home that the builder has already begun construction. Either way, the homebuyer will be able to take full advantage of DESIGN FREEDOM. Rodrock Home offers this program on all its floor plans, regardless of the price point of the home.
What makes Rodrock Homes' construction process unique is staging of their available inventory to maximize the personalization for those purchasing a home. Where some home builders will go ahead and complete a house to their own taste, Rodrock Homes will actually halt construction at predetermined points until the home is sold. For example a buyer purchasing a home 60 days from completion will be able to make multiple selections such as: stain color of cabinets, paint colors, tile, carpet, appliances, plumbing and lighting fixtures. This is where the freedom to design the home comes into play.
President of Rodrock Homes, Brian Rodrock knows that each homebuyer has their own degree of involvement in building a home. "There are some buyers that come in and want to build their home exactly like our model all the way down to the tile we selected or the paint color in the kid's bedroom. Other buyers change everything that could possibly be changed in the home," said Rodrock. He concluded, "When it's time for that family to move in, they will know we worked together to build the home of their dreams."
Rodrock Homes is a single family residential builder based in Lenexa, Kansas. The company is currently building throughout Johnson County, Kansas. Look for the company on Facebook. For more information contact Brian Rodrock, Rodrock Homes, LLC. (913) 851-0347, brodrock(at)rodrockhomes(dot)com.
# # #