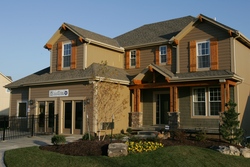 Our business motto is 'Building Lasting Relationship', and that line of thinking is always important to us
Lenexa, KS (Vocus) May 19, 2010
Competition is one of the best measurements of success for any person, team, or company. How do they stack up when going against the best of the best? Rodrock Homes (RodrockHomes.com) is learning that the building company is able to compete on the national as well as the local level.
Builder Magazine (Builderonline.com) has listed Rodrock Homes at #167 on its ranking of companies with the greatest number of homes closed in 2009. It is the first time the company has earned this recognition. The top of the list is dominated by national building companies like, D.R. Horton, Pulte, KB Homes and Toll Brothers. In fact 12 of the top 13 on the list were publicly traded companies with only exception being Habitat for Humanity at #8. With 35% of the 200 companies listed coming from Texas, California, and Florida, Rodrock Homes was the only home builder from Kansas. McBride & Sons from outside St. Louis was the sole representative of Missouri.
Brian Rodrock, President of Rodrock Homes credits a company philosophy for its continued success through both good and difficult times. "Our business motto is 'Building Lasting Relationship', and that line of thinking is always important to us" said Rodrock. That attitude may explain why people are buying their second Rodrock home or inviting their family and friends to experience the Rodrock Homes difference. Rodrock continued, "We believe when you take care of people, the business side of things takes care of itself."
The semi-custom home building company believes this honor will not be a onetime occurrence. They now have 27 homes sold ahead after the 12 homes sales in April. To replace those homes sold and to prepare for future growth Rodrock Homes will have 25 new home starts in May. Half of the new starts will be in new communities where students will attend either the DeSoto or Olathe School District.
The company's president is appreciative of the recognition in Builder Magazine, but understands there is a limit to the influence it will have on future sales. Rodrock commented "People will not select a Rodrock Home because we were mentioned in a magazine. We must continue to earn the confidence of each homeowner, one family at a time."
Rodrock Homes is a single family residential builder based in Lenexa, Kansas. The company is currently building homes throughout Johnson County, Kansas. You can follow Rodrock Homes on Facebook, Twitter, and Flickr.com. For more information contact: Brian Rodrock, Rodrock Homes, LLC (913) 851-0347, brodrock (at) rodrockhomes (dot) com.
###