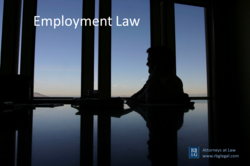 After trial the GSA consented to almost all of the relief sought by our clients including promotions, back pay and attorneys' fees.
Chicago, IL (PRWEB) August 20, 2012
The law firm of Roeser Bucheit & Graham LLC earned another favorable result for its clients, this time representing two African-American employees, Felicia Tuck and Aneesah Muhammad, of the Government Services Administration ("GSA") who alleged they were subjected to employment discrimination and retaliation on the basis of race. Roeser Bucheit & Graham took the case over on the eve of trial following the close of discovery and, following the trial, obtained on behalf of Ms. Tuck and Ms. Muhammad a settlement agreement awarding them promotions, monetary awards, and attorneys' fees.
Ms. Tuck and Ms. Muhammad, both long-time employees of the GSA, had filed complaints with the EEOC alleging that the GSA had repeatedly passed them over for promotions in favor of non-African American applicants less qualified for the positions Ms. Tuck and Ms. Muhammad had sought. Ms. Tuck and Ms. Muhammad also alleged that their supervisors retaliated against them for filing their complaints by, among other things, refusing them interviews for and/or rejecting them for positions for which they were qualified. The case, Tuck v. Martha Johnson Administrator of Government Services Administration (Nos. 10-R5-PBS-FAT-2, 10-R5-PBS-AM-1), was before the Equal Employment Opportunity Commission in Chicago, Illinois.
Roeser Bucheit & Graham is a Chicago-based law firm that focuses on commercial litigation and employment matters. Representing Ms. Tuck and Ms. Muhammad for the firm were senior trial attorneys Darrell Graham, John Bucheit and Peter Roeser.