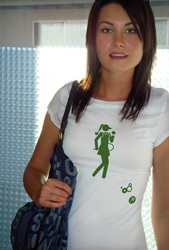 Dana Point, CA (PRWEB) September 14, 2009
The US Open has ended and Stick It Wear?!™ starts with new player designs framed with new colors and fabrics around the game's favorite movers.
Much of the Stick It Wear?!™ by Joe Durica collection is inspired from the refined Olympic pictograms and patterns of the 60s and 70s. The apparel's iconic logos distill heroic sporting moments and movements. The modernized stick icons also evoke an elegance that translates into just being simple, cute and intelligent. In concert with the austere figures, Stick It Wear?!™ uses colors and garment fit to quietly announce the arrival of the sophisticated die hard.
Intelligent t-shirt graphics like The GOAT pay tribute to the greatest that ever played, Roger Federer. The Original Rebel is reminiscent of 80s long hair tennis great, Andre Agassi. Ana delightfully recreates a attractive intensity found in a recent French champion, Ana Ivanovic. Current and past rivalries between the men and women players have been recreated on Stick It Wear?!'s thick-thick sweatshirts. They are as current as that classic matches between the mens and womens no. 1 and 2. Stick It Wear?!'s campaign "From Hero to Icon." makes a game out of which real hero has turned into a iconographic?
This sports line is not only for the tailgating breed. The simple stick figure forms are quality screened onto new fabrics that have a softer feel in addition to smart modern cuts for men, women and children. Fine ringspun combed cotton ensures comfortability on the playing field or with "evening wear" jeans. The fan will find new micro-poly performance shirts in addition to the lineup of t-shirts, tanks and zip-up sweats.
Selected movements of other greats of the game Rafael Nadal and Maria Sharapova are also brought to life by Stick It Wear?!'s thought out and inspired graphics.
Items can be found online at: http://www.StickItWear.com
About the Designer Joe Durica
Stick It Wear?!™ creator and designer Joe Durica grew up in Chicago watching the reverent battles between McEnroe, Connors, Lendl and Becker. His first tennis hero was John McEnroe while his Czechoslovak emigrate parent's hero was the rival Ivan Lendl. That matchup made for some colorful finals and Super Saturdays. Joe's early years were dominated by drawing, thoughts of throwing gigantic fits of bottled up passion followed by majestic drop volleys (á la The Mac Attack), and the cultural tractor beam of 'Star Wars'.
Stick It Wear?! seems to have been born from all of Joe's interests-- from the designer lines to the study of human anatomy and back to the now reverent battles between Roger Federer and Rafael Nadal.
# # #