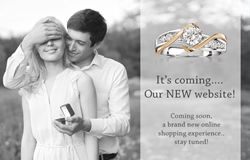 This new site will allow us to deliver our message to our guests in the way we always wanted to.
Chicago, IL (PRWEB) August 29, 2014
Rogers Enterprises, Inc. (REI), the largest family-owned & operated jewelry retailer in the country, announced they would be launching a new online shopping experience for both Rogers & Hollands and Ashcroft & Oak Jewelers this fall. Created with the user and guest experience in mind, the custom-designed website will not only have improved navigation and functionality, but will present a design that promotes the brand's message of romance, relationships, and exclusive jewelry selection.
Working with Orbit Media Studios, a web design company based in Chicago, IL, REI anticipates the new website will offer their online guests an easier and more fluid shopping experience. New upgrades include significantly increasing the product selection, tablet & mobile responsive design technology, and even a free "pick-up in store" option to name a few.
"We've done a lot of research this past year on what online capabilities our guests expect from us and what we can do to make their shopping experience more enjoyable," said Kathy Kadet, VP of Marketing at REI "We began working with Orbit because they recognized where we were and where we wanted to be. Plus, they have a fantastic track record in web design and SEO optimization."
While REI plans to release the complete list of features of their newly designed website closer to the launch date, Kadet assures that their longtime guests will be pleased with the abundance of new products, fresh look, and other surprises.
"Being family-owned & operated for over 100 years gives us the advantage that we know who we are and what we will always stand for, and that's listening & serving our generations of guests like they are a part of our family," said Kadet.
Rogers Enterprises Inc.:
Rogers Enterprises, Inc. is a growing fine jewelry chain with 74 stores in nine Midwestern states. Founded in 1910, this family-owned company does business under the names of Rogers & Hollands Jewelers and Ashcroft & Oak Jewelers and has become the largest family-owned and operated retail jewelry chain in the country.