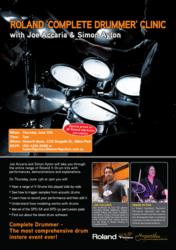 Electronic percussion can still be seen as a bit unusual. When some people hear about electronic drums they envisage those from the 80s
(PRWEB) June 08, 2013
The Haworth Guitars Drum Room has announced the Roland 'Complete Drummer' clinic, to be held at the Albion Park store on Thursday 13 June from 7pm. The clinic will feature well-known professional drummer Joe Accaria alongside Simon Ayton, Roland Australia's Electronic Percussion Specialist.
Glenn Haworth, managing director of Haworth Music Centre, says the event will showcase the versatility and scope of the Roland V-drum range.
"Electronic percussion can still be seen as a bit unusual. When some people hear about electronic drums they envisage those from the 80s," Mr Haworth said.
"In fact, V-drums have brought electronic percussion to a new level. For example, across the range there are different trigger pads, from rubber to cloth-head to mesh-head, that really change the feel. Playing them side-by-side is the best way to experience and understand the difference, and it's not often you get to do that."
"I'm very excited to have Joe Accaria as part of the clinic. He's played with so many different musicians in so many different styles that he really understands the huge range of percussion. He also has so much live as well as studio experience, and I'm sure he's going to show us a lot of different tips and tricks for V-drums."
"Anyone who can play for both Jimmy Barnes and Andrea Bocelli must be pretty versatile," Mr Haworth added.
A feature of the clinic will be to showcase how to get the most out of one of the big advantages of electronic drum kits – their MIDI capability. This means that a V-drum kit can control, and be controlled by, other MIDI-capable instruments, including digital samplers. Another benefit of a MIDI-capable drum kit is that the output can be to a recording device, or to headphones, which makes them great for home musicians.
"We will also have Simon Ayton, Roland Australia's Electronic Percussion Specialist, showing us all there is to know about the Roland V-drum range. What Simon doesn't know about producing sounds and patterns from V-drums isn't worth knowing," said Mr Haworth.
Mr Haworth said people attending the clinic will be able to:

Hear a range of V-Drums kits played side by side
See how to trigger samples from acoustic drums
Learn how to record your performance and then edit it
Understand how modeling works with drums
Marvel at the SPD-SX and SPD-30 percussion pads
Find out about the latest drum software
For more details on the Roland 'Complete Drummer' clinic, go to HaworthGuitars.com.au or phone, in Australia (02) 4256 0088 to reserve your place.
About Haworth Music Centre
Luthier, Phil Haworth established Haworth Guitars in 1999, with a focus on building and repairing stringed instruments. In 2000 the transition from workshop to retail space was made, and in 2008 the two-level Haworth's Music Centre, with adjacent Warehouse, was opened in Albion Park Rail, just south of Sydney, Australia.
Phil has returned to his love of guitar-building and the business is now run by his son, Glenn, who in 2011 became General Manager. The Haworth team is comprised of young people who live their passion for music and musical instruments.
Haworth's ability to remain very competitive in an online world rests with its warehousing capabilities and strong online presence.
Visit the Haworth website at HaworthGuitars.com.au (http://www.haworthguitars.com.au/)