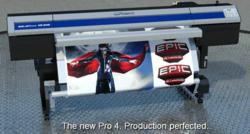 McLogan helps customers leverage their hardware investment with support and after sale service
Los Angeles, CA (PRWEB) December 13, 2012
McLogan helps make the Roland Pro 4 large format printer even better with personalized factory-trained installation and start up services. The McLogan team are experts at digital printing, sign making and vehicle wraps. They also know this new printer inside and out. This combination of having technical know-how and creative expertise is a winning combination for those investing in state-of-the-art large format printing capabilities.
Roland describes the SOLJET Pro 4 XR-640 as "production, perfected". This Roland printer is the fastest, most powerful large-format color printer/cutter ever offered. The 64-inch Pro 4 ushers in a new era of quality, precision and performance. The McLogan team is there from the start to ensure the SOLJET Pro4 printer works seamlessly for their customers, offering technical and after care support for this new entry in the large-format printer market.
McLogan offers a complete line of quality digital printing and screen printing equipment along with all the supplies that meet the needs of large and small businesses. They are a family owned business serving the creative and printing community since 1922.