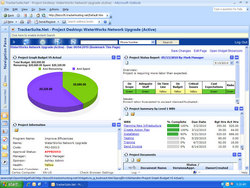 Software for organizational effectiveness is often better experienced than described
Tucson, AZ (PRWEB) February 14, 2011
Automation Centre, award winning developer of TrackerSuite.Net, a Web based suite of integrated modules for Projects, IT and CRM, is pleased to announce the launch of a new evaluation site created specifically for IT users. This site demonstrates the role based software capabilities of TrackerSuite.Net as a full-fledged, Web based IT Service Management and best of breed Project and Portfolio Management system. Interested parties may register for immediate access to the demonstration at:
http://www.TrackerSuite.Net/WinningIT
"Software for organizational effectiveness is often better experienced than described," says Steven Birchfield of Automation Centre. What makes this evaluation site unique is the ability of visitors to shift among several user profiles, allowing them to experience the management of IT projects and services from different perspectives, including that of an IT executive, an IT Manager, a General User and as a Customer.
As users move from role to role, they can see how TrackerSuite.Net provides a different virtual workspace for each user, presenting them with customized menus, widgets and tools. These roles include:

Clarisse CIO: An IT Executive who utilizes TrackerSuite.Net for IT project portfolio management and reviewing the performance of her organization's Web based help desk. Clarisse utilizes configurable reports including dashboards and charts that allow her to quickly drill down from a mile-high perspective to individual project tasks, support tickets and resources.
Mark Manager: An IT Manager, Mark leverages automated functions in TrackerSuite.Net to manage his teams, including "Auto Nag" email reminders for late Web timesheets and overdue tickets, notifications for task and ticket assignments and schedule changes, and even newsletters on project status and progress. Using views and reports, Mark monitors the performance of his staff and the progress of work on projects and support tickets, escalates important tickets, or converts them to worthwhile projects or tasks.
Joe User: A member of Mark Manager's project team, Joe User's virtual workspace keeps him informed of his responsibilities with personalized widgets, helps him to work efficiently on project tasks and the tickets assigned to him, simplifies timesheet creation and purchase requests.
Carrie Customer: As a Customer that Mark Manager serves, Carrie can access a Web based customer portal provided by TrackerSuite.Net to collaborate on projects and support tickets her organization has submitted.
Within the evaluation, visitors can switch among these various characters to experience their typical work activities, whether that is creating a support ticket as Carrie Customer, filling out and submitting a timesheet as Joe User, updating a status report as Mark Manager or reviewing a Support Ticket Time pie as Clarisse CIO.
About Automation Centre
Automation Centre is a leading provider of advanced Project and IT Management solutions for organizations of all sizes. Automation Centre's primary products include TrackerSuite.Net (TrackerSuite.Net -- for the Web), Tracker Suite® (for IBM® Lotus Notes® / Domino®) and TrackerOffice® (for Microsoft® Outlook®/Exchange).
TrackerSuite.Net is a trademark of Automation Centre. Tracker Suite and TrackerOffice are registered trademarks of Automation Centre.
###