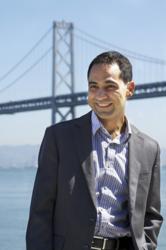 "I'm truly honored to receive this recognition and envision continuing to inspire our diversity leaders of tomorrow."
San Francisco, California (PRWEB) September 27, 2012
The American Advertising Federation (AAF) announced the selection of Améredia's founder and principal Pawan J. Mehra for the Diversity Achievement Role Model Award for his outstanding leadership and success within the multicultural advertising, marketing and media industry. He will be awarded alongside other diversity pioneers at the Mosaic Awards & Forum on October 2nd 2012 at the Hilton New York.
AAF recognizes diversity leadership across six categories including Industry Career Achiever, Trendsetter, Educator, Role Model, Corporate Leader and Pioneers of Diversity. The Role Model recognition is provided to an individual that demonstrates a high degree of professional success and motivates others to do the same. This year's Diversity Achievement Awards honorees include:
Industry Career Achiever: Hikmet Ersek, President, Western Union
Trendsetter: Jeff Sautter, EVP, Director of Human Resources, BBDO
Educator: Young & Rubicam & The United Negro College Fund
Role Model: Pawan J. Mehra, Founder, Améredia
Corporate Leader: General Electric
Pioneers of Diversity: Advertising Women of New York (AWNY), Omnicom Group, Kang & Lee
The Mosaic Awards and Forum will also recognize award winning agencies and corporations for their cross-cultural creative work and bring together a panel of experts to discuss diversity issues in the advertising industry.
"Diversity is at the heart of what we do and integral to our growth. We have and will always be a proponent of increasing diversity in our industry," said Pawan J. Mehra. "I'm truly honored to receive this recognition and envision continuing to inspire our diversity leaders of tomorrow."
Mehra joins an accomplished group of individuals that have been recognized in the past with the AAF's Diversity Role Model Award including Michele Thornton of Centric/BET who won the recognition last year, Tiffany Warren of Omnicom, Madhu Malhan of Ogilvy, Jerri DeVard of Verizon/Nokia, Indra Nooyi of PepsiCo, Daisy Exposito of The Bravo Group, and Ann Fudge of Kraft Foods/Young & Rubicam.
Mehra has spearheaded Améredia's success as one of the most diverse and fastest growing multicultural advertising agencies in the country with recognitions like Diversity Business's Top Business in America, Top Diverse Business, and Top Woman-Owned Business, US Pan Asian American Chamber of Commerce's (USPAACC) Fast 50 Company, San Francisco Business Times' (SFBT) Top 25 Advertising Agency and Top 100 Private Companies and National Minority Supplier Development Council's regional Supplier of the Year.
The agency under his leadership continues to win numerous industry awards including seven years of consecutive wins for Excellence in Multicultural Marketing Awards (EMMAs). Améredia also serves and empowers diverse communities by partnering with organizations like Oakland Digital Arts and Literacy Center (ODALC) and the Association of American Advertising Agencies (4A's) to support their educational and learning programs.
The Diversity Achievement Role Model recognition adds to Mehra's earlier industry recognitions including the ADCOLOR® Industry Coalitions' 2011 Change Agent Award and the National Association for Multi-ethnicity in Communications' (NAMIC) 2012 Next Generation Leader Award, among others.
###
About the AAF
The American Advertising Federation (AAF) (http://www.aaf.org) headquartered in Washington, D.C., acts as the "Unifying Voice for Advertising." The AAF is the oldest national advertising trade association, representing 40,000 professionals in the advertising industry. AAF's membership is comprised of nearly 100 blue chip corporate members comprising the nation's leading advertisers, advertising agencies, and media companies; a national network of nearly 200 local federations, representing 40,000 advertising professionals, located in ad communities across the country; and more than 200 AAF college chapters.
About Améredia
Améredia Inc. (http://www.ameredia.com) is a full-service multicultural advertising, marketing and communications firm. The agency enables private, government and non-profit organizations to connect with Hispanics, Asians, Europeans, Middle Easterners, Pacific Islanders, Africans, LGBT and other diverse emerging groups nationwide. Conceptualizing culturally-engaging campaigns across print, TV, radio, online, outdoors, events, grassroots and social media platforms in over 20 leading languages, Améredia is one of the fastest-growing multicultural market agencies nationwide.