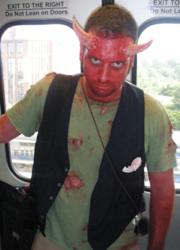 "...a whole new way to tell stories. We're no longer limited by the linear structure of a simple beginning, middle, and end. On RolePages the story lives, and grows, changing every second of every day"
Atlanta, GA (PRWEB) May 21, 2013
RolePages.com is a costume storytelling social network that blends videos, pictures, and written text to give members the ability to produce interactive stories in dynamic new ways.
The creative tapestry that is RolePages develops through member interactions. When someone joins the site they are prompted to create a unique fictional character. They can then use that character as an avatar to communicate with other fictional personas through a variety of social mediums including blogs, comments, costume videos, forum threads, photos, graphics, and audio files.
Over time these interactions form a web, with each communication acting like a thread that helps elaborate more and more of the character's personal tale. In the same way that Facebook tells the story of a life, RolePages tells the story of a character's life. And these character's lives are the building blocks of an even more complex, dynamic, ever changing story that is the site's core narrative.
RolePages creator Joseph Gambit describes it as "...a whole new way to tell stories. We're no longer limited by the linear structure of a simple beginning, middle, and end. On RolePages the story lives, and grows, changing every second of every day"
The costume store is interlaced with the community providing members with access to over 10,000 items including masks, wigs, hats, props, and a variety of costume accessories all at discount prices. This fuels the elaborate costume character videos and pictures which are a centerpiece of the site's action, and has also given rise to a new media form known as "Video Roleplaying."
The RolePages Costume Community is open to the public and free to join. There are live, guided, interactive storytelling events held on a weekly basis, which allow members to watch, or even participate in the creation of an on the spot novel. There are also free form events that take place throughout the course of each day where people can help to develop a small section of the ever growing living story that is RolePages.com
The Story Of The Storytelling Community
RolePages was created by the enigmatic Joseph Gambit as an experimental art project designed to combine new communication tools in ways that allowed for the creation of group sourced stories. It immediately became popular among online narrative based roleplayers, and initially the site was very active as a shared writing medium.
With the opening of the costume store, and the upgrade of several core features, the community started to change. More of an emphasis was put on video roleplaying and character photos. The access to inexpensive costume accessories and the stores integration into the core RolePages software expanded the storytelling scope of the community.
Today RolePages is an ever changing multimedia hotbed with creative individuals from around the world coming together to create unique, innovative works of art. As new tools become available, and old tools become more accessible, an endless array of possibilities open up creating an ever expanding horizon of stories that can be told.
Company Information
For all press inquiries and questions, please contact the companies founder Joseph Gambit.
Email: RolePages(at)Gmail(dot)com
Phone: 1 866 STONE 16