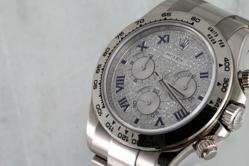 Los Angeles, California (PRWEB) May 04, 2013
Due to the significant influx of online purchases at Time and Gems for its annual Spring Flash Sale, the luxury retail watch giant has extended its annual clearance event for a limited-time only.
Buyers can now take advantage of Time and Gems' (http://www.timeandgems.com) colossal spring deal and pick up a top quality pre-owned Rolex watch. Along with the arrival of spring, experts say that the high demand for Rolex watches can also be attributed to the upcoming Mother's Day celebration happening on the second Sunday of May. Buyers are hence encouraged to secure their purchases before the conclusion of the sale.
Based on independent research as well as retail data complied by Time and Gems, the Datejust and President Rolex ranges are the most popular on the market at the moment. Here are some reasons why these particular collections are hitting an all-time high amongst online shoppers.
1. Rolex Datejust collection
Introduced in 1947 to the jubilation of all luxury watch fans, Rolex announced its Datejust for Men collection. As its name suggests, all Rolex watches in the Datejust range have a visible portal where the date is displayed along the dial's 3 o'clock surface. Known as one of the most recognizable Rolex watches in the world, the Datejust collection was made for the distinguished and esteemed gentleman (and more recently, lady). According to Adrien Couchet who recently purchased a pre-owned Rolex Oyster-Perpetual Datejust, "It is a classic watch with a modern twist and I especially love its Jubilee Bracelet strap and concealed Crownclasp as it adds a touch of class and comfort to the watch."
2. Rolex Presidential collection
The Rolex DayDate President collection, more commonly known as the President range was named such after Rolex presented one of its first models to former American president Eisenhower. This distinct Rolex watch features a unique calendar mechanism that offers its owner the current day and date. Buyers of this collection have the flexibility of choosing the type of dial, bezel and strap they would like. Brianne Smith who purchased her very first pre-owned Rolex watch shared reasons why she chose the Midsized 18K White Gold Champagne Jubilee Diamond Dial Beadset Bezel Tridor President Rolex watch for her mother. "My mother deserves the very best and this particular model complements her lifestyle and tastes the most," Smith said, "Also, the watch's larger dial size as well as its smattering of diamonds makes it a one of a kind gift."
Indeed, buyers are treated to only the very best at Time and Gems. With a risk-free three-day return and 10-day exchange policy, buyers are given ample leeway and flexibility should they choose to return or exchange the Rolex watch. Buyers are also treated to an authenticity and appraisal certificate as well as a comprehensive 2-year warranty. The authenticity of all Rolex watches purchased through Time and Gems goes through an extensive process of inspection, restoration, and check by its team of highly trained watchmakers before it is put on sale.
One of the fine Rolex watches currently on sale in conjunction with Time and Gems' Spring Flash Sale is the Men's Rolex Silver Diamond Dial Channel Set Bezel Day Date President (Item #839)
Price: $12,045 Today Only: $11,000
(Bank Wire Price: $10,450) This leave the buyer with the total Savings of $1,595
For more information on other popular Rolex watch collections such as Rolex Submariner and Rolex Daytona as well as other luxury timepieces, please contact Time and Gems at 1-888-658-5595 or visit http://www.timeandgems.com