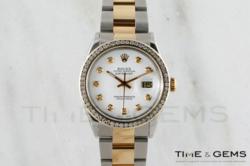 Los Angeles, California (PRWEB) April 24, 2013
Rolex watches are and always will be timeless. The quality of Rolex watches is like no other in the world which is why they are traditionally seen as extravagant luxuries and nothing more. Recently, however, more people have been realizing that investing in a Rolex watch is worth its while. Rolex watches are not only elegant, timeless and overall beautiful, but they are built to last as well. With Rolex, it's not just the façade of a nice watch, the buyer is getting their money's worth as each watch is water-proof and dust-proof. They will last many a year and are great investments as well as luxury collectibles. Even in economic hardship, the buyer can get their money back or maybe even a profit. This is because Rolex is recognized worldwide as a durable yet timeless timepiece; there is none other like it and certainly none other above it.
Because of this widespread recognition, Rolex is now more attainable than ever despite the current global economic state; right now is actually the best time to invest or simply just buy a luxury watch. What with the emerging ecommerce business and all, the luxury watch market has never been so good. Buying and selling Rolex products has never been easier, faster and more secure more than ever for the watch lovers. One of the best in the business of affordable high-end luxury watches is Time and Gems. They have been one of the leading ecommerce businesses in the buying and selling luxury watches for a steady ten years now because of their high satisfaction rate, great deals and unmatched customer care.
Time and Gem's takes their clientele loyalty to heart and because of this they offer a wide range of services along with every Rolex purchase starting with a comprehensive 2-year full warranty. There's also free overnight shipping (both ways) on services performed under warranty, free customer support from expert jewelers, low-cost maintenance services for the life of the watch and finally a beautifully customized wood and velvet luxury watch box, all as a sign of their thanks for taking the time to invest in a timeless, quality product such as a Rolex watch.
In addition to this, Time and Gem's also chooses to rewards customers, and any potential luxury watch investor, by taking one season of the year and having daily deals for the entire season! It's chosen at random but lucky for those who are looking to buy a luxury watch right away, they are currently having one; today's daily sale is the Men's Rolex Datejust.
The Daily Deal: Men's Rolex Two-Tone White Dial Channel Set Bezel Oyster Band Datejust
Item # 125
Original listed Price: $5,539
Deal Of the Day: $5,262
(Bank Wire Price : $4,736)
Total Savings: $803
They also offer a No Risk 3-Day Return/10-Day Exchange Policy; in case this isn't exactly the watch in mind. In this case one can check daily and see if the watch they desire is offered on the daily deal. This shouldn't be a problem since Time and Gem's carries a large, diverse inventory of luxury watches, brands like Cartier, Rolex and Breitling being no exception. They have a wide selection of Rolexes especially such as the Rolex Datejust, President, Super President, Sport models, etc. Not to mention they have all these styles in a variety of elegant options. With all that's going for them it isn't hard to believe that Time and Gem's really is the world's largest and leading collection of luxury watches; perfect as a gift for any occasion as well as an incredible investment.