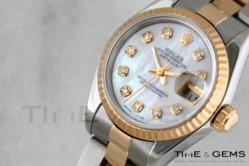 Los Angeles, California (PRWEB) May 02, 2013
Online luxury watch reseller Time and Gems has kick-started a limited-time only sale to tie in with Mother's Day on the second Sunday of May. Although the sale will go on until May 11, buyers are urged to benefit from it as soon as possible.
In conjunction with the annual Mother's Day sale, buyers will be able to choose from a wide range of prized used Rolex watches when they shop online at Time and Gems (http://www.timeandgems.com). With over 30 years of experience in the luxury watch retail market, Time and Gems guarantees quality purchases to all its clients.
Time and Gems understands the need for buyers to be picky when selecting a Rolex watch for their mothers. This is why they have come up with some tips that buyers can take into consideration when shopping for the number one woman in their lives.
1. Consider her lifestyle
Buyers may find it easy to just go with the first Rolex watch on display. Some may even choose a watch based on its price tag as they are under the impression that the more expensive the Rolex, the more valuable it is. However, Time and Gems recommends that the first thing the buyer needs to do is to take into account their mother's daily lifestyle. If the buyer's mother is a woman of leisure, it is advisable to choose something from either the Masterpiece, Datejust or President's collections. On the other hand, if the buyer's mother prefers to involve herself in sportive activities such as horseback riding, sailing or gardening, a better option would be to go for a Rolex watch from the Yacht-Master range. As each Rolex collection was created with very specific lifestyle choices in mind, it is best that the buyer looks into his or her mother's daily routine before deciding which Rolex watch to present to her.
2. Consider her tastes
Once the buyer has determined his mother's lifestyle and selected a collection to choose from, it is now time to determine the style, color and size of the Rolex watch. To generalize, women have a tendency to gravitate towards Rolex watches with mother of pearl inlays and faces speckled with diamonds. These details can be found in most of the No-Date, Datejust, President's and Masterpiece ranges. The buyer will also need to decide if his or her mother would prefer a silver or gold colored Rolex. A tip to keep in mind is if the buyer's mother has more gold than white gold or platinum jewelry, it is a better option to go with a gold Rolex, and vice versa.
3. Consider the whole package
As the Rolex watch will be presented as a gift, buyers can expect their purchase to come with a luxury wood and velvet interior watch box and hand-sewn polishing cloth. Additionally, the buyer will also receive an authenticity and appraisal certificate from the Horological Appraisal Group as well as a two-year warranty and detailed instruction manual. In addition to that, Time and Gems offers a 10-day exchange policy and no-risk three-day return, giving the buyer the flexibility of returning or exchanging the Rolex watch.
Ladies' Rolex Two-Tone White Mother of Pearl Serti Dial Yacht-Master
Price: $10,045
Today Only: $9,500
(Bank Wire Price : $8,550)
This gives the buyer a total savings of $1,495
For more information on this limited-time only Mother's Day Sale, contact Time and Gems' at 1-888-658-5595 or visit http://www.timeandgems.com