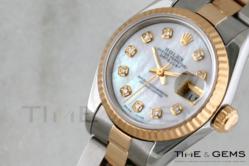 Los Angeles, CA (PRWEB) April 21, 2013
Rolex timepieces are often in great demand due to their high precision and functionality. Each model has its own characteristics which makes it easy for buyers to be able to differentiate a real Rolex watch from a fake one. Not only are these Luxury watches a great source of investment; they are also a status symbol.
Here are some tips on why Rolex watches are great investments:
One of the reasons that this luxury timepiece is a smart investment is because the Rolex brand is recognized worldwide instead of just in the watch market. People from different countries buy, sell and know this brand as a luxury brand and often use Rolex as a status quo. Recognition is a main point of consideration when investors decide to sell a watch.
To an investor it's essential to have assurance that the product they are investing in will hold its value. This very well applies to the Rolex brand and makes this innovative watch to be a great investment. Over time not only do these watches not lose their value, in most cases their value goes up depending on the model. The Rolex Submariner is a great example in which after a few years of buying it, the investor can sell and make profit off the watch. The Rolex submariner along with the rest of the Rolex watches, such as the Rolex Daytona and Rolex Datejust, are waterproof and dustproof, which also helps these watches to hold onto their value.
These days investors don't have to rely on only buying a new Rolex watch, which can be very costly. The used luxury watch market is growing which allows the investor to invest their money by buying a used Rolex watch and pay a fraction of what they would have for a brand new Rolex watch; and they still can make their money back and then some.
The only downfall of buying a used Rolex watch can be buying a counterfeit and losing the original investment. Therefore investors have to make sure that they are buying the used Rolex watch or any other luxury brand watch from a trustworthy and reputable source. Other than that paying close attention to the watch's characteristics is also very important and can help the investors to be able to differentiate a fake Rolex watch from the original. For example some of the Rolex watches come with a custom Bezel that is hard to duplicate.
There are online retailers that are a good resource for buying a luxury watch from. One of those trustworthy sources is Time and Gems. This company has been in the business of buying and selling various luxury watches especially the Rolex brand. Their expert jewelers and watchmakers are known to help buyers and investors find the best Rolex watch that fits their needs.
Time and Gems's great daily deal is an added bonus to their spectacular customer service and quality products. Their daily deal for today is the Men's Rolex Stainless Steel Black Roman Dial Beadset Bezel President Style Band Datejust Item # 1502. Listed price before sale on this grate Rolex Datejust was $4,772, and they are offering it on their daily deal campaign for $4,533 (Bank Wire Price: $4,080), which leaves the investors with extra savings of $692.
Some other additional benefits of buying luxury watches such as a Rolex watch from Time and Gems, are that they offer 2 year comprehensive warranty, authenticity certificate and their 3 day no risk return policy. Visit their website at http://www.timeandgems.com or call their expert jewelers at 1-888-658-5595.