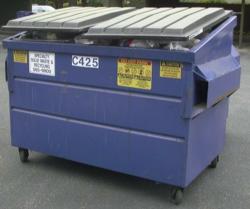 Trash specialists now monitor all calls made to the new number at 1-800-748-9909.
Chicago, Illinois (PRWEB) June 29, 2013
The trash removal industry continues to grow in most cities in the U.S. based on population growth. The need for dumpster rental continues to increase and one online company has now taken its business national. The City Dumpster Service has launched its roll off dumpster rental network online at http://www.dumpsterrentalquotes.com to provide immediate pricing to business owners, homeowners or individuals who are researching this type of dumpster pricing. This company has increased its amount of haulers providing these rentals this year.
Pricing in the trash collection industry is competitive between suppliers. Many companies do not list pricing on a website or social media presence. The majority of rental pricing is based on the size of a container and length of rental period. One of the ways that is now used by the City Dumpster Service to speed up the price distribution process is with the toll-free telephone number now established for rental quotes.
Trash specialists now monitor all calls made to the new number at 1-800-748-9909. These specialists are able to quote roll off dumpsters, construction containers or other types of trash containers commonly requested. This new national number is now the primary method of generating dumpster quotes.
Part of the supplier network expansion online includes more helpful information to consumers researching rental pricing. The way that dumpsters are measured to calculate the total cubic inches required could cause some errors if a person does not fully understand the size requirements of dumpster rental requests.
To make this process simpler, information about how to save money during a rental is now offered through a cash saving tips portion of the company website. These tips are written by company specialists and available for consumer use.
The expanded services for each quote that is requested now provides information about hidden fees or charges that could be assessed during pickup or drop off by some companies. Not all rental agencies provide this information to consumers. The City Dumpster Service specialists provide this information based on U.S. location and length of rental term to help renters achieve the lowest price possible for trash storage and removal services.
About City Dumpster Service
The City Dumpster Service company is a combined network of trash removal agencies in the U.S. now serving the needs of homeowners and business owners. This trash removal company has more than 20 years of service to the public helping to find the lower dumpster rental pricing currently available nationwide. The City Dumpster Service team consists of experts who supply immediate quotes by toll-free number to nearly any city in the country. A resourceful website was launched this year to provide cash saving tips and other information that is helpful when renting dumpsters online.