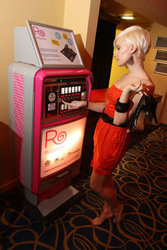 New York, NY (PRWEB) February 25, 2010
Gone are the days of going home early due to tired, partied out feet or trudging to and from the office in your work pumps. A new durable, yet rollable ballet flat, Rollasole is set to invade the US market.
After seeing tremendous success in the UK as the world's first vended rollable flat, Rollasole has announced the launch of their US online store Rollasole.com/USA and a partnership with major retailer Target, where the new Rollasole retail collection of durable slip-on flats are available at Target.com for $9.99.
Rollasoles are the shimmery solution to jaded stiletto-sore feet. The unique patented roll up design fits snugly in any clutch and comes with a reusable pouch to carry your heels. Available in four colors: black, gold, silver, and metallic pink, Rollasole is the essential handbag accessory.
Rollasole creator and 28-year-old British entrepreneur, Matt Horan, made the rollable flats a reality after a typical Saturday night out with his girlfriend ended with him carrying her home on his back. "She loved her towering stilettos, but by the end of the night her feet would be suffering," explained Horan. "So I decided to come up with a solution for both of us and that's how Rollasole was born."
Horan invested the money from a recent redundancy package into developing the idea and in the summer of 2008, Rollasole was launched. Soon after, Horan made a deal with a top UK nightclub giant to sell Rollasole flats from branded, environmentally friendly vending machines in six of its trial venues. Following the trial run, Rollasole's vending distribution grew over 600% in 8 months across the UK in nightclubs and leisure venues. Currently, Rollasole is finalizing plans to bring their branded vending machines to the hottest US nightlife and hospitality venues in late Spring 2010.
"Rollasole's success overseas as the leading 'compact footwear' will translate well in the American retail market and is destined to become a must-have accessory for women everywhere," said Roy Cheika, Executive Vice President at Pan Oceanic Group, a New York based leading accessory distributor for over 35 years. "We believe Rollasole fills a much needed void and are excited to help expand their business in the US and Canada," added Cheika.
For more information on Rollasole or to obtain hi-resolution images, visit: Rollasole's digital press kit.
ABOUT ROLLASOLE
Rollasole is the creation of young entrepreneur Matt Horan who, after piggy backing his girlfriend home one night, had a 'eureka' moment to come up with a fashionable, comfortable and affordable solution to the pain of high heels. Matt invested the money from a recent redundancy package into developing the idea and in the summer of 2008, Rollasole was launched, selling in one recycled vending machine in one nightclub in his home city of Bristol. Today, Rollasole is sold across the globe in UK, Ireland, Ibiza and Australia. Rollasole is distributed in the U.S. and Canada by Pan Oceanic Group's Royal Soles.
ABOUT PAN OCEANIC GROUP
Pan Oceanic Group is a leading import distributor of fashion accessories with over 35 years experience. Headquartered in New York City, with distribution centers in Jersey City, NJ and Los Angeles, CA, Pan Oceanic manufactures products under private label and licensees of many popular icons. The Pan Oceanic Group is made up of several divisions including Pan Oceanic Eyewear (sunglasses), Royal Soles (footwear), H.E.R Accessories (children's hair accessories), and Basha Accessories (scarves). Our products are sold to mass merchants, chain stores, catalog, and resorts. In addition, we produce private label products for many specialty and department chain stores throughout the USA and Canada.
# # #