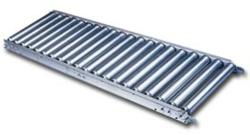 We have been manufacturing stainless steel rollers and conveyors for thirty years and are very pleased to now have A Plus Warehouse selling our stainless conveyor line
Chicago, IL (PRWEB) December 17, 2011
A Plus Warehouse is pleased to announce the addition of two conveyor lines by Rollaway conveyors. A Plus Warehouse has been providing the high quality Rollaway line for over 15 years and supports their effort of providing conveyors that industry requires. The two new lines that A Plus Warehouse is now providing are the stainless steel roller conveyor line and the PVC gravity conveyor line.
A Plus Warehouse is pleased to sell conveyors by Rollaway not only for their superior quality, but also out of a spirit of patriotism. Rollaway is an American manufacturer. Rollaway is proud to be one of the companies still making equipment here, and not outsourcing production. According to Dan Sullivan, the President of Rollaway Conveyors, "We proudly produce all of our conveyors in Illinois. Our production has not been outsourced nor will it be."
The stainless steel American Made Conveyor is one of the items now for sale at A Plus Warehouse. These items are now offered simply because customers require sanitary conveyors in many cases. A traditional metal roller conveyor will rust , and that is not acceptable in food service and pharmaceutical plants for obvious reasons. High tech operations also fins stainless steel conveyors an important item as well. A Plus Warehouse provides information online including prices on over 50 stock keeping units of these conveyors. The process is quite simple. A Plus Warehouse will even quote a specialized all stainless conveyor supports if your application requires them. Rollaway is actually quite adept at manufacturing stainless steel roller conveyors. According to Dan Sullivan, "We have been manufacturing stainless steel rollers and conveyors for thirty years and are very pleased to now have A Plus Warehouse selling our stainless conveyor line"
The other conveyor product A Plus Warehouse is now providing is the PVC conveyor line. PVC conveyors are used when the items being conveyer are a bit more fragile , and a metal or aluminum roller may cause damage. Glass handling applications tend towards PVC conveyors.
Visit http://www.apluswhs.com for your conveyor help. Their trained sales staff is ready to be of assistance.
A Plus Warehouse is a national distributor of warehouse equipment including but not limited to conveyors
###