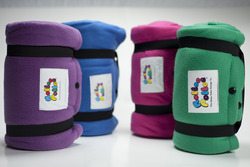 Cash for Schools will allow any school to fundraise without forcing parents to go to a local restaurant or car wash...[and] Rollee Pollee helps schools comply with health and safety codes.
Irvine, CA (PRWEB) February 15, 2011
Rollee Pollee announces 'Cash for Schools', a program focused on helping both private and public schools and school districts across the nation achieve significant fundraising returns for every Rollee Pollee purchased by their students and families. Through 'Cash for Schools', (http://www.rolleepollee.com/cashforschools), Rollee Pollee will donate $5.00 for every Rollee Pollee sold under this promotion.
"Many of our existing customers in education are constantly doing fundraisers to help make up for budget shortfalls," says Brian Reeves, President of AQSIS Enterprises-the producer of Rollee Pollee, "but it seems like fundraising can be taxing on schools and parents alike. We considered how we could help educators raise money without burdening teachers, administrators or parents with just another fundraiser that requires lots of promotion and heavy participation. Many of our current clients already have Rollee Pollee as a 'must item' on their enrollment lists, so its something students already need. Cash for Schools will allow any school to earn money from this naptime blanket without forcing parents to go to a local restaurant or car wash. The bonus for each school is that Rollee Pollee helps them comply with health and safety codes while making nap time easy as 1-2-3. It's a win-win all around."
Registration for Rollee Pollee's Cash for Schools program is simple. First, schools register online at http://www.rolleepollee.com/cashforschools/. Once registered, schools download a .pdf order form that can be placed in a daily bulletin or emailed to parents. Parents in turn complete their orders online or via fax directly to Rollee Pollee. School receipts are tallied and product is shipped directly to students. Rollee Pollee then mails payment directly to the contact person listed by the school during registration.
"This is going to be a fantastic added bonus for the schools that have been buying Rollee Pollee for years. 20% cash back on each Rollee Pollee sold will quickly add up, especially on a district level, to a very significant amount. And for those that might not be aware of this nap time blanket with attached pillow, this is a great opportunity to try something new and add to a schools bottom line," adds Reeves.
The Rollee Pollee 'Cash for Schools' program is available exclusively online.
About Rollee Pollee
Rollee Pollee is made from high quality fleece, is hypoallergenic, colorfast, machine washable and comes with a high density, clear plastic storage backpack that keeps away germs, dirt, dust and liquids. Rollee Pollee saves space by easily storing in cubbies, cabinets or on pegs, and meets or exceeds stringent state regulations on napping equipment. Rollee Pollee easily secures to cots and sleeping mats with its elastic safety straps and comes with embroidered name tags for easy identification, making it easy for children and teachers to start and end naptime periods.
# # #