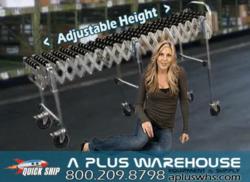 Many Orders Placed By Noon Ship Next Day!
Boston,MA (PRWEB) February 02, 2012
A Plus Warehouse is proud to announce the February roller conveyors madness sale. Roller conveyors and conveyors are a staple product at A Plus Warehouse, and the intention is to continue to provide great value to A Plus Warehouse customers. The deal is simple. When any customer calls or emails A Plus Warehouse saying "Help, I have Roller Conveyor Madness!" that customer will get a five percent discount on any order for roller conveyors and related conveyor equipment.
In keeping with our concurrent Materials Handling integration promotion, the 5 percent discount will be applied to any non-conveyor related item ordered at the same time. What a great opportunity to consolidate unrelated items and save some money. There are many reasons ordering roller conveyor products at A Plus Warehouse is a great idea. First among motivations must be lead time. Through our dealings with major manufacturers such as Roach Conveyors and Rollaway Conveyors, and Best Conveyors, A Plus Warehouse is able to offer great roller conveyors in many configurations from stock. When ordering before noon time, many shipments are accomplished the next working day.
For roller conveyors that ship next day, the A Plus Warehouse conveyor elves get the job done. Conveyor Elves are the mystical people that install stock conveyor rollers into stock conveyor frames after hours, so complete conveyor units ship next day! According to Ed Stairman, President of A Plus Warehouse. "Conveyor elves are the key to immediate delivery". Adam Smith informed a waiting world that division of labor is one of the fundamental keys to the Wealth Of Nations – as described in his so named book. A Plus Warehouse takes this concept to heart by having roller conveyors produced by people dedicated to the simple task of installing rollers into frames. Who said elves are only for chocolate chip cookies?
Another reason to order from A Plus Warehouse is the great variety of roller conveyors the company offers. A Plus Warehouse provides Mini Conveyors with a roller diameter of ¾ of an inch for customers with very small fragile loads. A Plus also provides roller conveyors with a giant roller diameter of 3 ½ inches for the heavy manufacturing that is still done right here in USA! A Plus Warehouse conveyors are all made in USA , incidentally. Roller conveyors by A Plus Warehouse are fabricated in the South East as well as Mid-West.
For specialized conveyors, A Plus Warehouse provides PVC roller conveyors , stainless steel conveyors , and accordion conveyors as well.
A Plus Warehouse is the roller conveyor king!
Call 800-209-8798 and see why
###