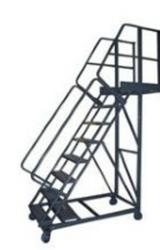 We'll get even more Loyal Rollin Ladder Customers With The New Promotion
Boston,MA (PRWEB) May 01, 2012
Reach the highest heights with the new A Plus Warehouse rolling ladder promotion. A Plus Warehouse is a nationwide distributor providing customers with quality industrial shelving and warehouse racks nationwide. A Plus Warehouse also sells the Ballymore and Garlin rolling ladder line, which are great associated items! For far too long , A Plus Warehouse rolling ladder customers didn't realize A Plus Warehouse is a shelving dealer , and shelving customers didn't realize A Plus Warehouse is a rolling ladders dealer!
Through the third quarter of 2012 , A Plus Warehouse will be offering an extra 20% discount for shipping on any shelving order placed at the same time as a rolling ladder order. This offer includes all shelving and rack products. If a customer has a quote for a rolling ladder , and a different quote for industrial shelving , the two quotes can be combined , and only 80 percent of the freight from the industrial shelving order will be added to the quotation! According to Ed Stairman, " We'll get even more loyal rolling ladder customers by offering a shelving discount." A Plus Warehouse promotions are designed with customer value in mind before anything else.
To make the offer simple, every rolling ladder, and every shelving or rack unit will be covered by the promotion , but only one promotion can be used per order. The Ballymore rolling ladder line deserves some attention.
Ballymore manufactures a fine line of rolling ladders in Pennsylvania , and A Plus Warehouse has been actively promoting their line since 1996 – which in internet years is a mighty long time! With the combination of Ballymore and A Plus Warehouse , customers get world class service with every order. A Plus Warehouse sales people can quote freight on a Ballymore ladder typically within 15 minutes! For customers that need aggressive pricing due to volume or competition, the dealer is always in! With A Plus Warehouse being a family business, the Dealer can be found anywhere! Orders have been quoted and finalized at 8 pm on Friday!
There are some rolling ladders that bear mentioning. The freight saver ladder is designed to save freight by shipping partially unassembled. Customers should not expect a pallet of nuts, bolts and metal parts. Ballymore ladders are very easy to put together – usually in less than 15 minutes! 15 minutes of labor in assembly saves over 70% in shipping, and greatly minimizes the chance of damage in transit.
A Plus Warehouse is a nationwide distributor for rolling ladders and materials handling equipment in general. Feel free to call A Plus Warehouse at 800-209-8798 with any questions.